Secluded life on island. 3 unique stories
Since childhood, we've all heard the story of Robinson Crusoe, who, unwillingly, found himself alone on a secluded island. Some sympathized with him, some thought it was a fascinating adventure. There is no person who has not imagined what they would do if found themselves in a similar situation. Almost everyone fantasized about getting out of there.
Nowadays, there are brave people who are willing to consciously give up the benefits of the civilized world and human society. Instead, they choose to be fully immersed in themselves and nature. There are also non-book stories about people who live in such conditions all their lives out of necessity. This article is about what life alone on an island can be like, with some real people's stories. Full steam ahead!
But firstly, let`s enclose the "secluded" definition
a. remote, hidden, or sheltered from view; "a secluded romantic spot"; "the most secluded cabin in the woods"
b. not wanting the company of others; preferring solitude; "secluded scholars"; "a hermit's life"; "an unsociable genius"
c. marked by little social contact; "a secluded life"; "an unambitious reclusive existence"
d. as if concealing or sheltering from view; "dark, secluded spots in the forest"
More about the "secluded" definition you`ll find here.
And now let's move on to our stories
Hamid the Fisherman from Socotra Island
This man's story was told by the YouTube blogger Eva Zu Beck. She spent two weeks on the remote island of Socotra. This island is in a remote part of the Gulf of Aden between Somalia and Yemen. Today, it is one of the most inaccessible places in the world. There, on the beautiful wild beach of Shob (one of the remotest on the island), lives Mr Hamid.
The man has been living in a shack built from rocks and wood that washed ashore for more than 50 years. He did not choose total solitude to experience the world. He was only compelled to this way of life. He's been fishing all his life. Fishing is the main way of survival and the price for the absence from regular life.
David Glasheen — From Millionaire to Hermit
All his life David Glasheen has lived and raised his capital in Sydney. It was like that until 1997. Then, in a stock market crash, Glasheen lost a wealth of more than £6.5 million. The stock market, the active social life in Sydney, and the wife with two children are all in the past.
David made the decision to seclude himself on Restoration island off the coast of Australia.
He rented the island for 43 years from the local authorities, paying 13 thousand pounds a year. In his suitcase to the island, the former millionaire took three shirts, two pairs of shorts and swimming trunks, a flashlight, some books, a jar of ground chilli, some toothpaste and a toothbrush.
Alone on an island, David built a hut equipped with solar panels and set up a modest household. The man grows vegetables and fruits and brews his own beer. He is accompanied by his dog Zeddy and his two dummies in the shapes of girls, which he brought with him to the island.
David uses eco-energy to keep in touch with the world around him, tries to find a girlfriend on the Internet, and trades in securities.
David did not fulfil the terms of the lease, leaving the tourist project at the concept phase. Since 2000, a court decision has tried to evict him from the island, but he still continues to brew beer and fish and is going to appeal the court's decision.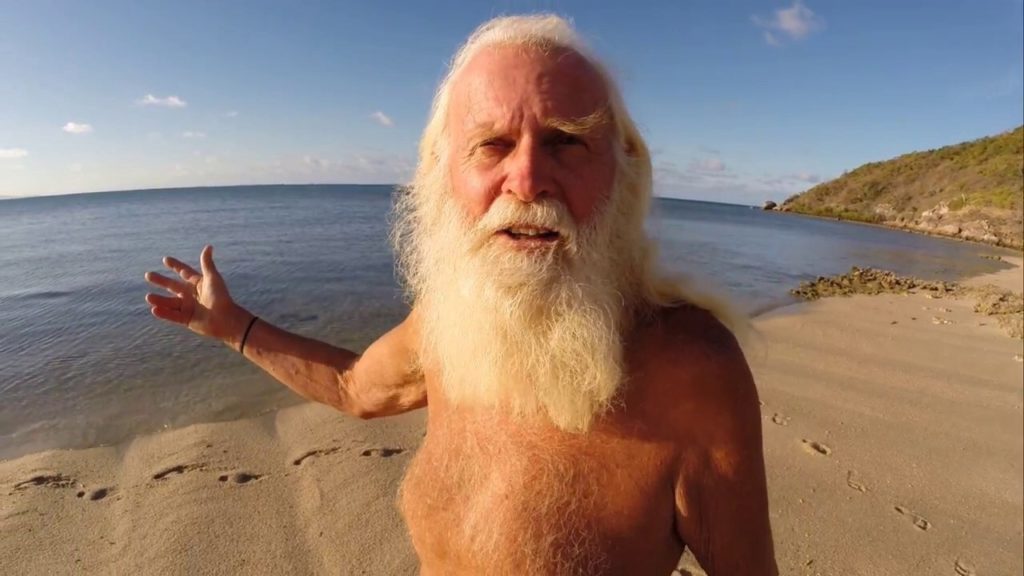 Life on the island allowed David to redefine his priorities. He even released a book "The Millionaire Castaway: The Incredible Story of How I Lost My Fortune But Found New Riches Living on a Deserted Island".
One of the quotes from his book: "Resto affirmed my desire to find a different way of life: one that is outside the vicious circle of pressure to make enough money for a lifestyle by which other people judge your worth and success."
10 Things David Advises to Take to Comfortable live on an island

For those people planning to live on an island, David recommends his list of things that will come in handy.
А considerable supply of freshwater;
Power generator, fuel supply, or alternative energy sources;
First-aid kit;
Tool kit;
Fishing equipment;
Dried foods and canned goods;
Hygiene items;
Books and board games;
Brewing kit;
Reading glasses;
Silver coins;
A good companion. (David is still looking for a woman to keep him company.)
What do you think you would take with you from this list? What would you add to it?
Xavier Rosset — 300 days alone on an island
Xavier Rosset is a Swiss adventurer and snowboarder. Like a true adventurer, he devised a challenge for himself — he spent 10 months alone on Tofua Island in the Pacific Ocean at his own will. The island is about 250 km from the capital. Xavier made a documentary about his experience. In it, you can see a real, non-Hollywood picture of life on a secluded island.
In the backpack, only the most necessary items for survival. Instead of a comfortable house, Xavier Rosset built a hut with his own hands. For breakfast, lunch and dinner only what you can catch and cook yourself — fruit, fish, snails, wild animals…
In addition, the daily danger and total loneliness must be accepted and dealt with.
After returning, Xavier Rosset said that it was very difficult physically and psychologically. And if he had to do it again, he wouldn't go for it.
But then he kept overcoming his weakness to realize his own idea because all that can stand in the way of your dream is the fear of failure.
Read also How To Survive on A Desert Island
So that's it. Life on islands can be radically varied, but either way, it is a very interesting experience. If your plans do not include a hermitage, you can always test your curiosity and rent an island with everything you need for personal comfort.