Private Islands for Rent in Wisconsin: Rental Offers in the State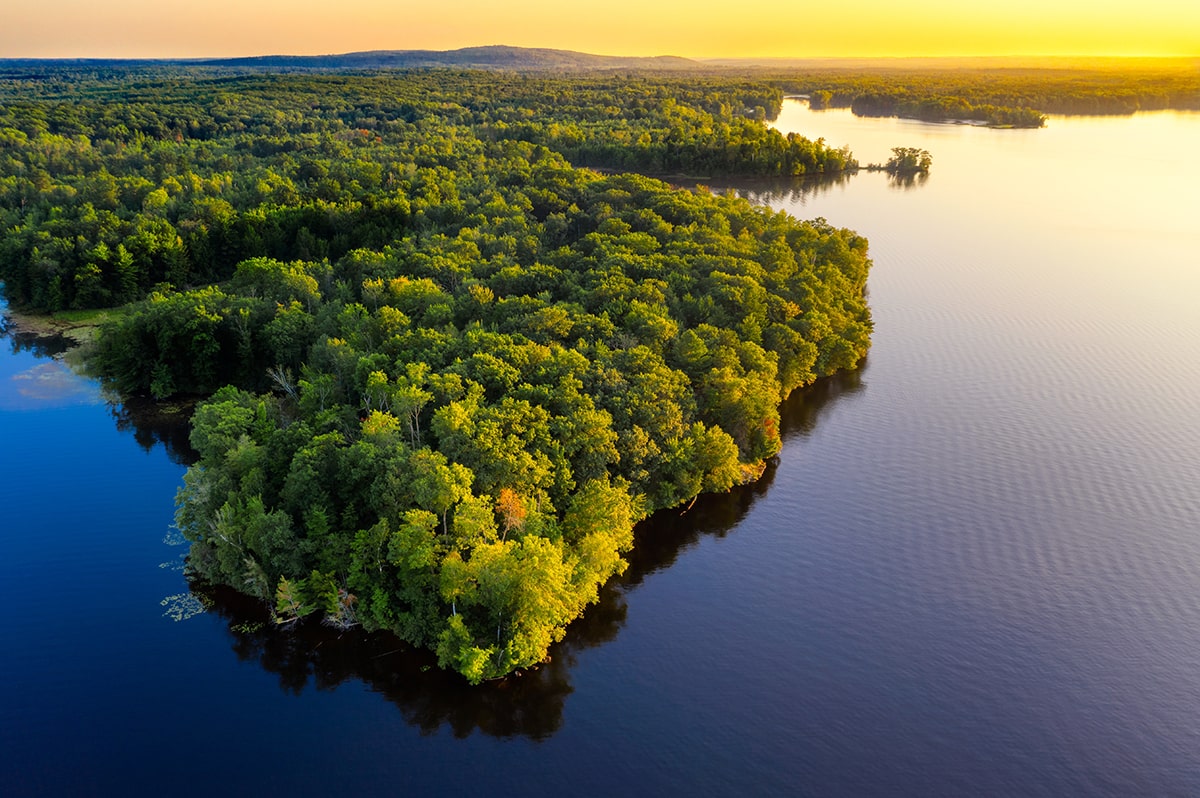 As usual, tenants choose private islands for rent in picturesque and tropical areas. But don't you ever dream about spending your vacations in no less beautiful northern regions like Wisconsin? Probably, you don't! Let us enclose to you all the opportunities that private islands for rent in Wisconsin offer you.
How Many Islands Does Wisconsin Have and How Many of Them Are Private
Let's make a brief geographical research on Wisconsin and its islands. The first and the most important thing to consider about Wisconsin is that this state is a real Lake Realm on the US map. There are 15,074 lakes in Wisconsin and lots of them have islands that suit living. Besides, lots of islands are located in the western boundary of the state on the Mississippi River.
As for the number of islands, Wisconsin amazes with it too. Only named islands of that state are over 400+. Besides, there are numerous nameless and uninhabited ones. So you can see that there are plenty of options for renting an island or even buying it.
As for the reasons why to choose private islands for rent in Wisconsin, it is necessary to know that this state is not just a diary paradise supplying all of the US with milk products and not just a rural area. Wisconsin is famous for its splendid nature sites and lakes that are worth visiting.
Costs for Renting a Private Island in Wisconsin
When you search for an island in Wisconsin, you should previously define your intention as the price for rental and purchasing of a private island may vary from ten to a hundred times no less. The cost for renting some facilities on one of Wisconsin's islands also fluctuates as it depends on the size of an island, its infrastructure, the number of guests it can host, and its popularity. On average, prices start from $90 per night depending on the location, the number of visitors, the discount offered by island owners on some special occasions, and so on.
When it comes to purchasing an island in Wisconsin, there is also a gap in price rates when you select islands for sale by the owner. Besides, there are not many offers in the market to choose from. When we decided to analyze the real estate market in Wisconsin, we were pretty surprised there are not many islands for sale. Actually, there are a few of them available on the market including 68 acres of Green Island in Wisconsin and Basin Island in Wisconsin's Door County. The price is offered upon request majorly so it is better to get a quote right from the owner.
You might find it interesting as well: San Clemente Island: Discovering the Enchanting Island Beauty
Owning an Island in Wisconsin: Peculiarities of Private Islands for Sale
As you can see, there are several islands that are private properties so buying an island there is real. Besides, the pricing you face will be more moderate than in Florida or the Bahamas whose island properties are in high demand, and thus, costly.
Besides, you should know that being the owner of an island or land that has borders with lakes or rivers is the guarantee that you can use the waters nearby as your property due to the riparian owner's rights.
The List of Wisconsin Private Islands Available for Rent
Even though you are not ready to buy any of the Wisconsin islands, you can appreciate the magic they arise by deciding to rent an island in Wisconsin. We'll be glad to show you the best opportunities for this available in the market.
1. Long Lake Island
Location: Northern Wisconsin
Pricing: for request
This secluded 5-acre island is covered with wood. There is a private house available for rent on Long Lake so this island can be a win-win option for a small company or family vacations. The house can host up to 6 guests having 3 bedrooms and 1 bathroom. The authentic atmosphere of the island offers you the relaxation and freedom you need. You can get there by a footbridge that connects Long Lake Island with the mainland. Enjoy the peacefulness and comfort of that place and feel free to spend your vacations there.
2. Katinka Island
Location: Katinka Lake, Presque Isle
Pricing: for request
Not so long ago Katinka Island was represented for sale. Yet its new owner is already there offering that splendid piece of virgin nature to spend your special dates and vacations. Katinka Island is a very special place. It is fully covered with forests and its secluded location provides you with the real silence and relaxation you may need. The isle has 4 acres of space and there are not many facilities. Only one mansion hosts up to 14 guests. You can rent it and enjoy your loneliness. The accommodation offers you to enjoy a rustical home design with large wooden bedrooms and a chimney hall to spend your evenings near the fire. The luxury and comfort are combined with real wilderness on Katinka Island so you can enjoy them both.
3. Stout's Island Lodge
Location: Birchwood, Wisconsin
Pricing: for request
This power place hosts visitors for more than 150 years. Welcome to the Stout's Island Lodge, the perfect place for your weekend or honeymoon in Wisconsin. The main feature of the lodge is that there are no two similar rooms for tourists. Each room has its name and history gladly shared by hosts. The island is large enough to host up to 150 people so it is good for teambuilding events and conferences as well as for lovebirds and families who want to spend time in the wilderness and comfort of Wisconsin nature. Besides, the owners offer a full wedding ceremony to be held on the island.
This retreat also is great for active life appreciators. There are boats, water bikes, kayaks, and SUPs as well as tennis courts, football facilities and numerous board games of your choice. The restaurant offers full dining for guests upon request.
So we can say, this option is great for comfort lovers and corporate event managers.
4. Lake Winter's Heaven Island
Location: Lake Winter, Wisconsin
Pricing: $700
The full escape from civilization is what Lake Winter's Heaven offers to you. That island hosts no more than 14 people and it has all the facilities to make your vacations comfortable. Lots of secret trails across the island wait for your exploring trucking as well as kayaks and canoes offer you a real challenge. There is also a grill zone, smart TV, and WiFi in the chalet. The island is a fully child-friendly and pet-friendly zone so planning your family vacations is worth considering it as a #1.
5. Loon Island
Location: Lake Bonaparte
Pricing: $3,000 per family per week
This small island is real wildlife preservation. The Loon Island of Wisconsin is a treasure chest where you can enjoy your vacations in the wild. There are all the facilities for your comfort as well so you don't feel any trouble while resting there. Loona Island (as it`s also called in Wisconsin) is child-friendly with lots of fun for children. The peculiarity of its rental is that it is available from June to September for a weekly rental with a 50% prepayment as a reservation.
These 5 islands are not the ultimate choice. There are lots of islands to choose like the well-known Majestic Island in Wisconsin or Madeline Island resorts. But these that we've chosen are the most private, secluded, and still uninspected by the majority of tourists. So we hope that your vacations in these places will be really unforgettable.
Read also: Private Island for Rent in the Bahamas, Caribbean