Catalina Island Adventures: Top Things to Do, Stay, and Explore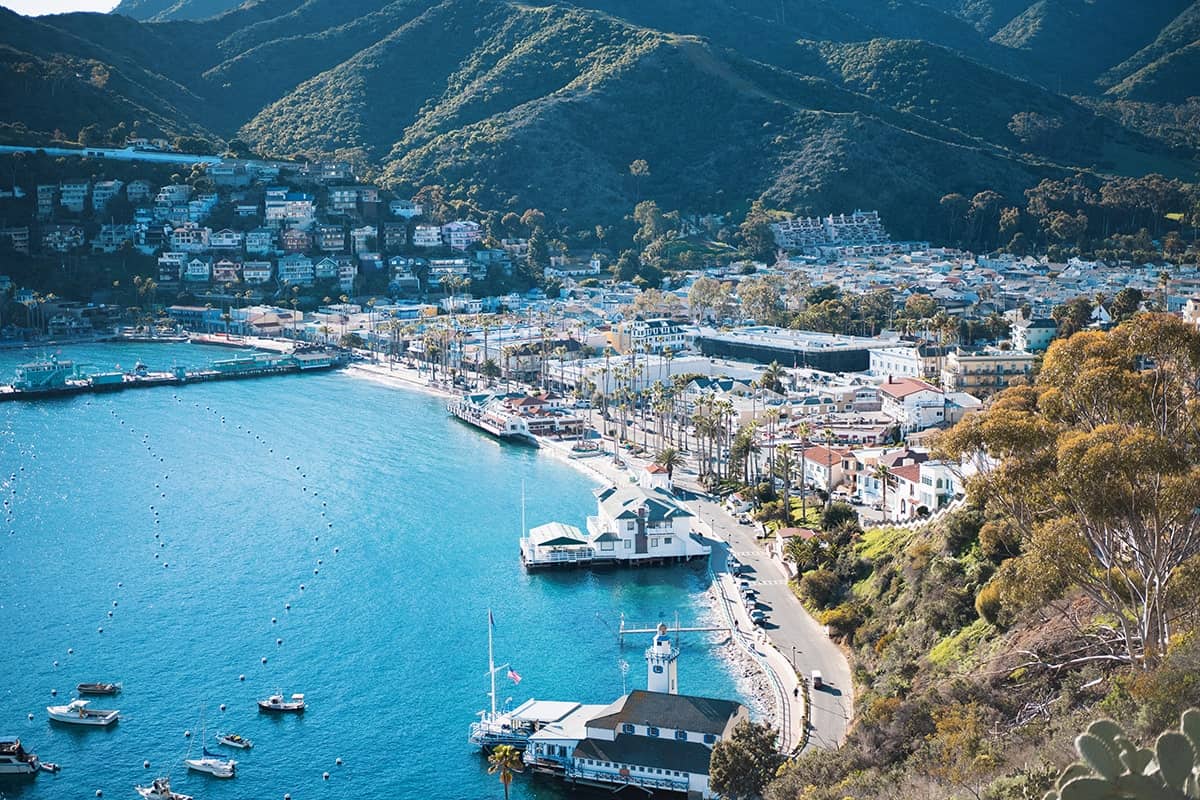 There are various tourist destinations you can choose to spend your time on an island. Some of them are secluded and distant, while others are not so far away from you. Catalina Island refers to the last option. So, let's check out what to do and how to get to Catalina Island, what to expect from your vacation in this location, and what to consider when planning your trip.
Let's start with the main info about what Catalina Island is, where it is located, and how to get from San Diego to Catalina Island.
Catalina or Santa Catalina is one of the most famous islands on the West Coast in the US belonging to CA. Its area is approximately 74.98 square miles and the Catalina Island population is approximately 4,000 people. The island is famous for its beautiful landscapes and Catalina Island's essential fish habitat which includes rare species like white seabass, bat ray, and tiger shark.
Besides, it has quite a developed tourist infrastructure, so you can get lots of fun there if you plan to spend your vacation in Santa Catalina.
Activities and Adventures: The Things to Do on Catalina Island
As this island is located in the warm yet trickled waters of the Pacific Ocean, the first and foremost thing to do in Catalina Island is to choose one of the most popular outdoor destinations and activities. Here we overview some of them.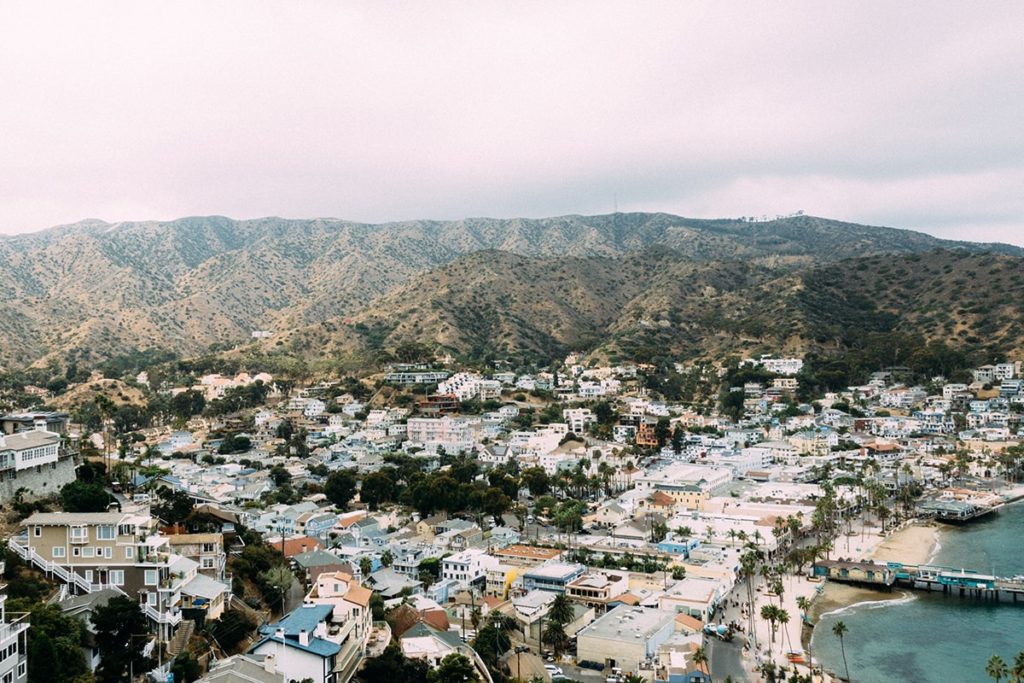 Outdoor Activities Offered in Catalina Island
As Catalina is surrounded by spectacular reefs and there are truly overwhelming landscapes with rocks and eucalyptus forests, you are welcome to try lots of outdoor activities like as follows:
Catalina Island snorkeling is the #1 activity to try. Here you can snorkel on your own or hire a guide to get to the best snorkeling spots like Casino Point Dive Park or Lover's Cove Marine Preserve. Besides snorkeling, you can also enjoy scuba diving here.
Catalina Island hiking and biking trails offer you a round trip through the island to watch its wildlife and great sites. You can easily rent a bike in Avalon, for example in Brown's Bikes. Also besides Catalina Island bike rentals, there are rental companies offering golf carts and e-bikes to speed up your island adventures. Besides, you are welcome to pick up some of the local hiking tours with a guide or golf cart tours.
Catalina Island parasailing is also an exclusive option you may enjoy. This activity is available in Parasail Catalina and Island Water Charters.
As Santa Catalina is surrounded by clear and full of marine life waters, there are numerous activities you can enjoy while spending time on its beaches. Catalina Island jet ski rentals will offer you an unforgettable experience of sliding the waterfront at high speed. Catalina Island kayaking is great to watch the best seascapes, especially at sunset. Do not forget to plan your boat trip on a boat with a glass bottom to see all the marine life diversity.
Water Transportation and Tours
There are several ways to get from San Diego and Los Angeles to Catalina Island. It is located 86.2 miles from San Diego and you can reach it both by sea and by Catalina Island bridge.
If you are coming from San Diego, you can get there by a ferry operated by one of the local companies like Catalina Express.
For LA visitors, ferries are also available from Long Beach and San Pedro.
You can also visit it when taking one of the CA Baja cruises.
A bridge to Catalina Island also exists (namely, it connects the mainland with Terminal Island) but you cannot drive your car using this route. Cars are banned from being taken to Catalina Island.
One more option to appreciate is a boat trip to Catalina Island. You can take your own vessel or rent a boat in Catalina. Just take note that there are over 700 moorings around the island but they are not available to book in advance and work simply on the principle first-come first-served.
Besides sea transportation, Catalina Island hosts an airport and helicopter or private plane services are available for tourists.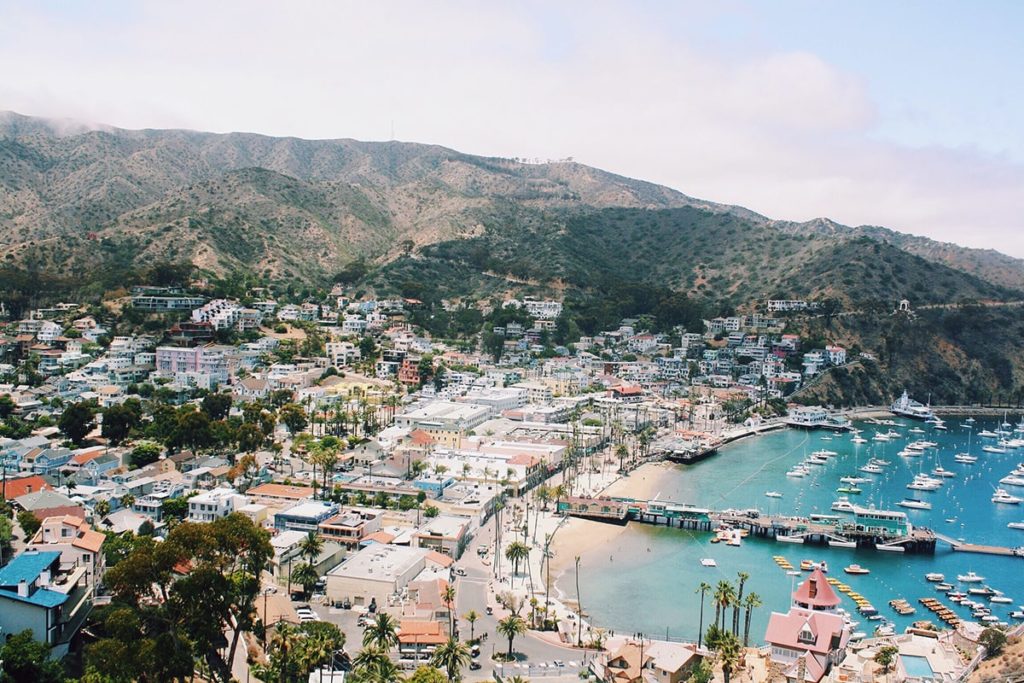 Must-Visit Attractions of Catalina Island
Besides outdoor activities, Catalina Island hosts multiple attractions we can call a must-see and must-visit.
Catalina Casino
The core of the whole touristic life of Catalina Island is no doubt Catalina Casino. Its 100-year history, spectacular view, and lots of amenities to enjoy make it popular. Here are two basic options to choose from. You can apply for general admission or get a VIP pass. Besides the casino itself, Catalina Island Casino is also a performing art center, a museum of Native American heritage, and a ball hall.
Natural Wonders
Catalina Island is a nature reservation area. It is a home for numerous wildlife species and Catalina Island's essential fish habitat is world-known and is a significant environmental center. You can visit amazing natural wonders like the Nature Center at Avalon Canyon, Garden to Sky Trail, Starlight Beach and multiple tours around the island devoted to ecology protection and wildlife preservation.
Accommodations and Dining: Planning Your Vacation in Catalina Island
There are some ideas on how to choose accommodation and dining in Catalina Island. You can use two of the most popular aggregators – Airbnb and VRBO to book an accommodation option as well as select one of the most well-known hotels by Hilton in Catalina Island.
Staying on Catalina Island
Airbnb in Catalina Island offers accommodation from $20 per night with The Big Blue – 1 Br+den, Family-friendly Avalon Penthouse and Island Cottage Retreat as the most popular offers.
VRBO in Catalina Island has over 200 offers including houses, cabins, apartments, villas, and cottages.
The Hilton in Catalina Island is represented by a dozen of accommodation options with the pricing starting from $68 per night.
Eating Out
To get the best dining experience in Catalina Island, keep in mind that most restaurants and bistros are located in the city areas of Two Harbors, Avalon, and Santa Catalina. You can enjoy a classy breakfast in the Bistro at the Atwater or take some tacos or sandwiches at Antonio's if you are looking for breakfast on Catalina Island.
As for dining, do not miss a chance to try local coastal cuisine at Avalon Grille or Harbor Reef Restaurant. Californian wines and lots of seafood are the #1 to enjoy here.
Practical Information for Visitors
Here are some facts you can use to plan your visit and decide on the best time to visit Catalina Island and the best camping ideas offered there.
Read also about San Clemente Island.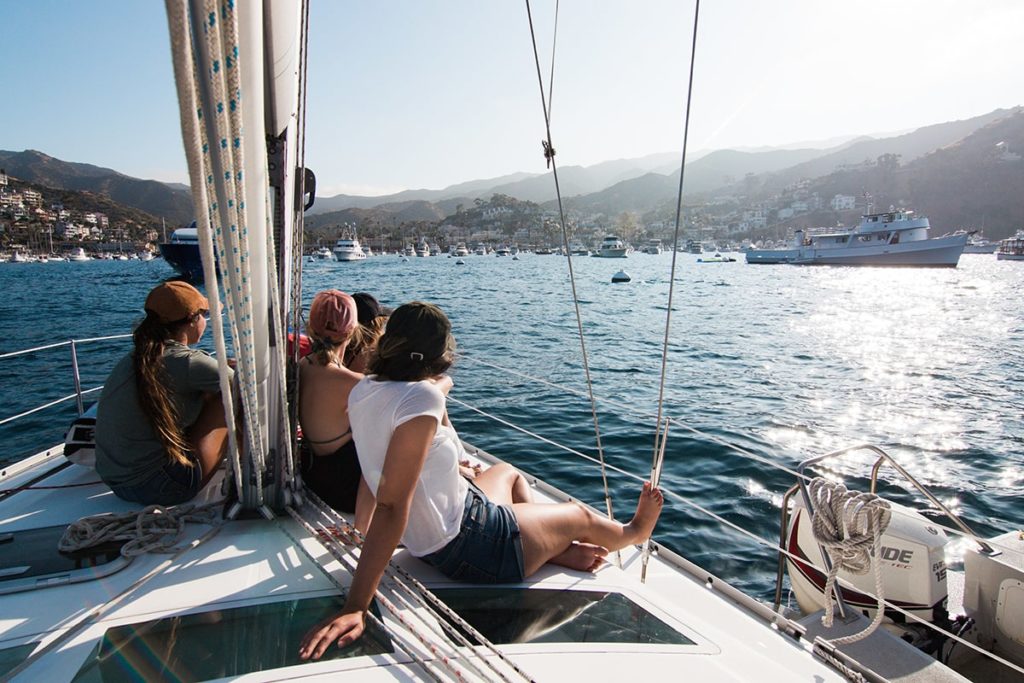 Traveling to Catalina Island
If you are going to visit Catalina Island, we have some tips to help you plan your trip.
Getting from LA to Catalina Island is better by ferry which circulates daily and offers quick transportation.
As for the seasonal peculiarities, Catalina Island is good for visiting all year round. Yet, in summer, accommodation and rental pricing become sky-high as it is high season. So, to save some bucks and get the best experience, visiting in fall and spring is the best.
The area of temperate marine climate impacts weather in Santa Catalina Island. The average temperature around the year is circa 63 F. So, it is comfortable to visit any time you want. Yet, to enjoy the best water temperature for swimming and snorkeling in Catalina Island it is better to choose summer time.
Additional Services and Attractions
If you want to stay on Catalina Island in the most natural and wildlife way, choosing one of Catalina Island camps is a win-win idea. There are several camping grounds available for reservation including Black Jack campground in the middle of the island, Little Harbor campground and secluded Parsons Landing. Some of them have gear rental services while others offer only booking a place and no gear available. Please, check this before booking a campground.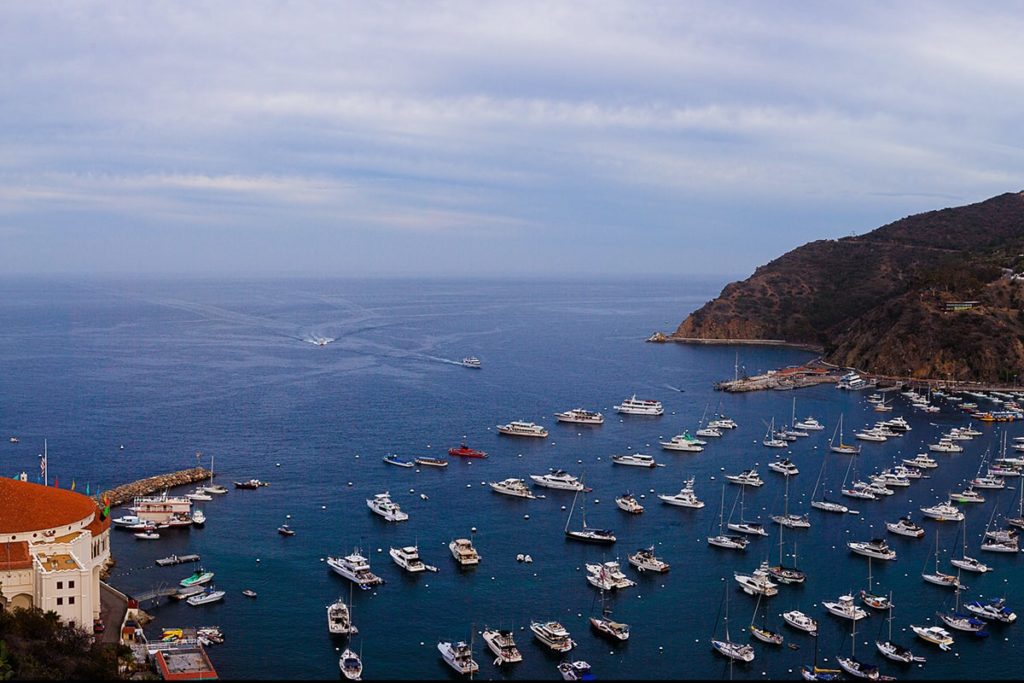 Conclusion
Catalina Island is a great tourist destination near the West Coast. Annually, this island hosts over a million tourists. Here you can enjoy diverse flora and fauna, exclusive marine life and at the same time, you get high-class services due to developed infrastructure. You can choose one of the local hotels, bungalows, and villas as an accommodation option or simply book a campground. Boating, camping, snorkeling, scuba diving, and all kinds of beach leisure are offered there. And for cultural entertainment options appreciators, Catalina Casino, its National Heritage Museum, and numerous restaurants are open.
We hope that our short guide to Catalina Island will come in handy for you. Stay tuned and subscribe to our blog articles to get more interesting and funny articles about islands and tourist destinations.
Frequently Asked Questions (FAQ) About Catalina Island
How far is Catalina Island from Long Beach?
Catalina Island is 29.3 miles from Long Beach.
What are the top things to do in Catalina Island?
The best things to do on Catalina Island are to explore its landscapes and wildlife and to enjoy numerous water activities like jet skiing and snorkeling in Catalina Island.

When is the best time to visit Catalina Island?
As the island has a temperate marine climate, it's good for visiting all year round.
How can I book a Catalina Island parasailing experience?
Several companies offer parasailing on Catalina Island. You can simply find them when coming to the island and book or order their services.
Where can I find reliable weather updates for Santa Catalina Island?

A: Just use your mobile weather forecasting app or visit a website like Meteoblue.