Disney Castaway Cay Unveiled: A Complete Guide to the Ultimate Fantasy Cruise Destination
When deciding about where to go on your vacation, choosing one of the tropical islands as your destination point is always a good idea. And if you add to this choice an opportunity to join one of the most amazing cruises offered by fabulous Disney (c) – that's bingo!
Here we are going to enclose you the brightest sides of the Disney Castaway Cay, the island that is exclusively available to visit to Disney Fantasy Cruise members. You will learn what is Castaway Cay, why it is secluded from other traveling routes, and what to do at Castaway Cay to get the maximum joy from your vacations. So, are you ready to start? Then, let's go!
Welcome to Castaway Cay Where A Disney Fantasy Comes to Life
If you want to enjoy the best merits of a private tropical island, it is the Castaway Cay you definitely should visit. You can understand simply from its name that this island belongs to the Walt Disney Company. And that's true. In 1997, this corporation rented this private island under a 99-year land lease. That's why today and until 2096, Disney Castaway Cay is open only for visitors coming on Disney Cruise Line ships.
Yet, where is Castaway Cay located, you may ask? It is a part of the Lucayan Archipelago in the western part of the Atlantic Ocean. This territory belongs to the Bahamas, so the right answer to where is Disney Castaway Cay is the Bahamas.
The island has a 1,000-acre area with a typically tropical landscape including soft beaches, rainforest areas, and great sites. Moreover, it is still mostly undeveloped, so only 5.5% of its territory is used. Here are Disney attractions and accommodation options for tourists, with only 140 locals living on the island permanently.
You may probably have seen this island before because it was the Castaway Cay in Disney's Pirates of the Caribbean movie filmed. So, if you want to see these fabulous sites with your own eyes, it's quite real! Just get tickets to Disney Fantasy Cruise and you will get there!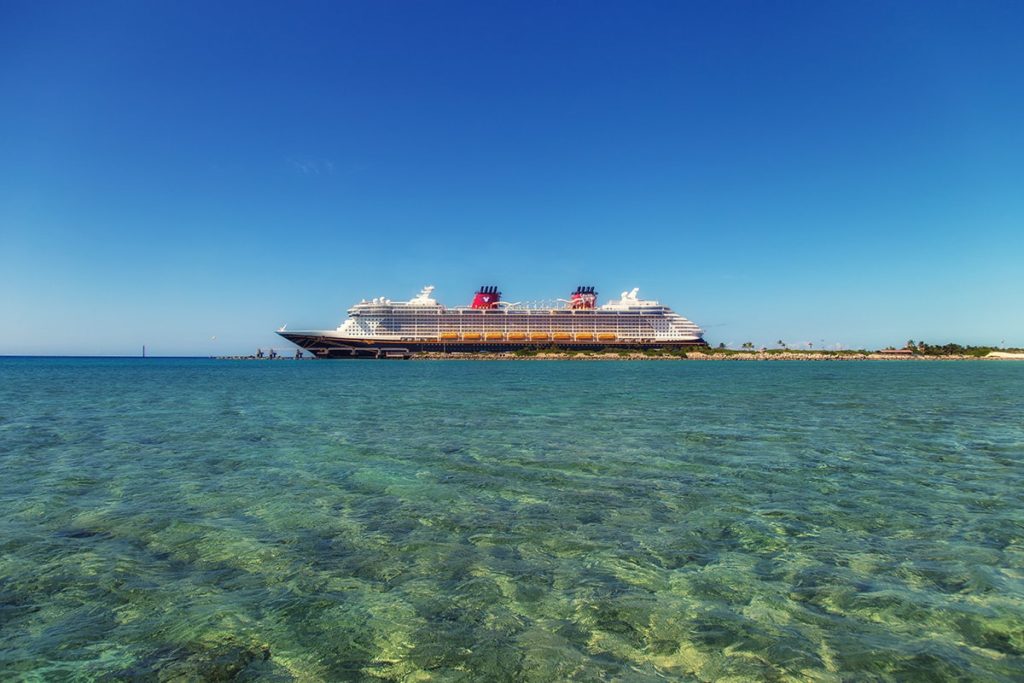 Planning Your Visit – Disney Fantasy Cruise Ship and Deck Plan
The first and foremost thing to do to get to the Castaway Cay's sites is to book a cruise on one of Disney's ships. There are 5 of them, yet we advise you to choose Disney Cruise Fantasy as the #1 option. This is the first ship of the Dream class in the Disney fleet which offers high-class services during its 7-day round-trip cruise around the Eastern Caribbean. One of the Disney Fantasy Ship destinations is Castaway Cay, where passengers can stay for a whole day.
The ship has 14 decks, with passengers' cabins on Deck 2 and Decks 6-10. Also, the ship offers multiple pools on its Deck 11, shops, cafés, and restrooms on Decks 5-3, and a Tender Lobby on Deck 1.
So, you have a wide selection of cabins to enjoy comfort during the Disney Fantasy Cruise ship journey.
Exploring Castaway Cay: Which Activities, Excursions, and Snorkeling Options to Appreciate
Ok, you have landed on the Castaway Cay dock. Besides, you will be surprised as the isle is never overcrowded. The secret is its dock can accept only one ship, so you and your cruise fellows will be the only visitors.
What to do at Castaway Cay? There are lots of activities you can choose from:
Enjoy pampering on one of the beaches. There are lots of beaches in the family beach area and a special adult-only beach to hang out all day.
Explore the island during one of the Castaway Cay excursions. There are trams and special excursions to book while you are sailing to the island.
Enjoy water slides and attractions at Pelican Plunge Water Park which offers great slides and pools for adults, teens, kids, and toddlers.
Get a couple of hours of rest while sending kids to Spring-a-Leak Splash Pad or Scuttle Cove's kids club.
Get the best impressions from Castaway Cay Snorkeling Bay's sites. Pick your snorkeling gear with you or rent it there.
Enjoy bars and dining options. You get free BBQ dinner on the island and unlimited ice cream all day long, and there are also great adult-only bars in the Serenity Bay and BBQ restaurants in the Family Beach Area.
Take part in the famous Castaway Cay 5K races. We'll mention this activity below in detail.
When planning what to do at Castaway Cay take into account that you can also rent tubes or floats, enjoy spa procedures, and get your experience in fishing, parasailing, or kayaking for an additional fee.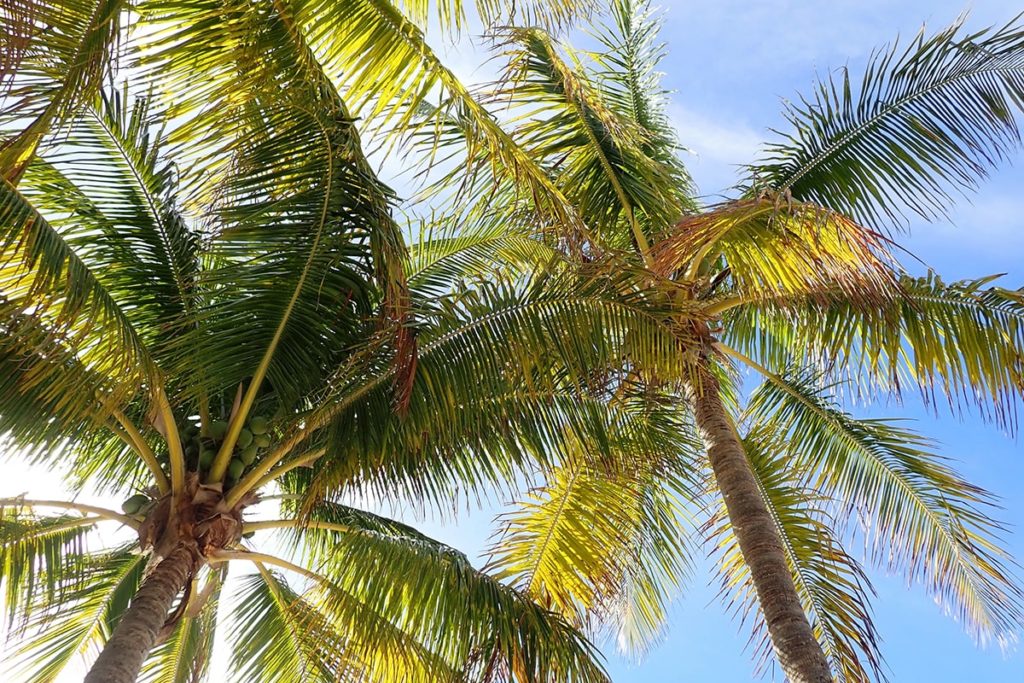 Castaway Cay Weather – What to Expect
As for the Castaway Cay weather, you can be sure that you won't freeze there all year round. The average temperature on Castaway Cay is 77.9 F, and it is only a bit cooler on the island than in other Bahamas. The only thing you should consider is that Castaway Cay has 55% of rainy days per year. So, please, check the weather forecast in advance.
The Exclusive Castaway Cay 5K and Cabanas Experience
There are two exclusive options for Castaway Cay visitors. You can take part in the Castaway Cay 5K race, which is a great way to explore the island while on the run and to get memorable medals for your participation. Besides, you can also rent one of the cabanas to spend a day on the island in a truly tropical atmosphere.
As both these activities are not regular, please, apply for Castaway Cay 5K participation and Castaway Cay cabana rental while onboard in the guest service.
Navigating Castaway Cay: Maps and Essential Information
As we have said, only 55 acres of 1,000 in Castaway Cay are inhabited. Yet, these 55 acres contain multiple attractions and areas. So getting a Castaway Cay map will be good to plan your visit. Here we have one for you. Besides, you can use an app by Disney Cruise Line which contains useful info about destination points including Castaway Cay.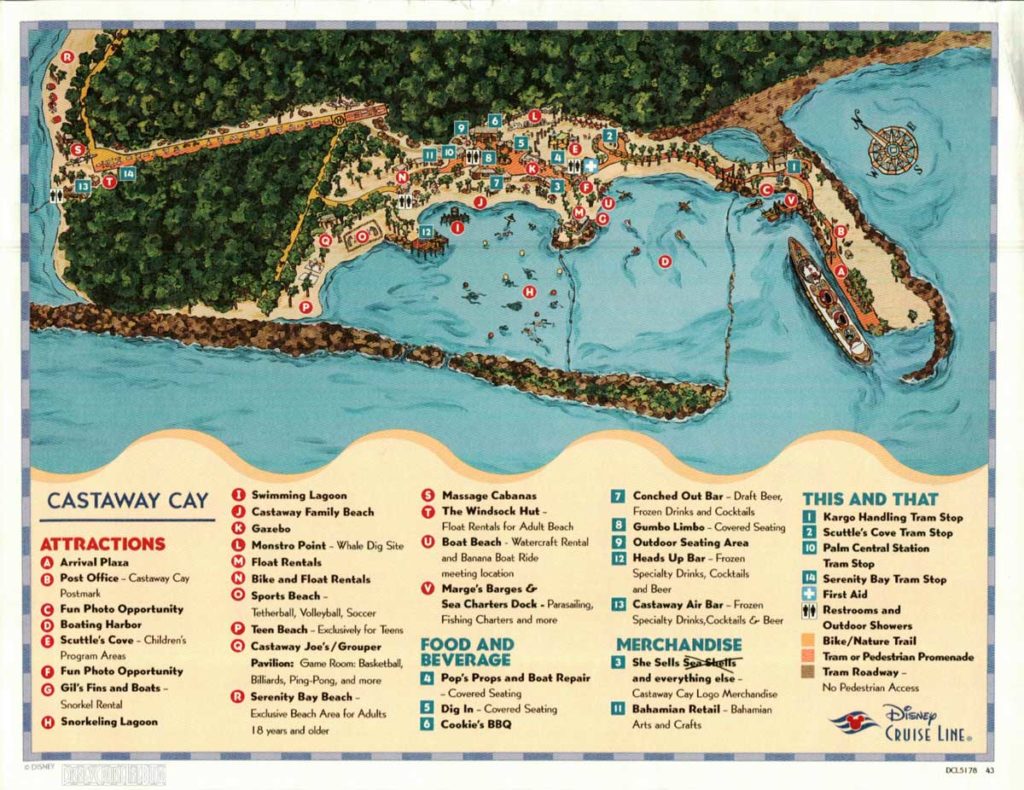 FAQs About Castaway Cay
Q:Is everything on Castaway Cay free?
No, despite most amenities including towels, beach access passes, BBQ and unlimited ice cream as well as lounge chairs and hammocks are free. If you need more than these options, you may need to keep some cash in your pocket. Particularly, trams, snorkeling gear, cabanas, tubes, and alcohol are not offered for free.
Can you go to Castaway Cay without a cruise?
No. It is available only for cruise members. Moreover, it is available only to Disney Cruise Lines ships and their passengers.
Can you just go to Castaway Cay?
Unfortunately, no. The island is open only to Disney Cruise Castaway Cay visitors. It is a private territory and its owners, namely The Walt Disney Company, prohibit private visitors from reaching its shores.
Can 18-year-olds drink at Castaway Cay?
Castaway Cay Disney cruises have a strict rule about drinking options. You can drink alcohol onboard or while visiting the island only if you are 21+ YO and you have a valid ID card with you.
Conclusion
Castaway Cay is one of the most fascinating islands in the Bahamas. Yet, it is available for Disney Cruise Line passengers only. It's a great idea to join the cruise and visit Disney's Castaway Cay, as this isle is full of attractions and beach vacation options. We hope that we have enclosed one more vacation idea on a tropical island for you and this article will come in handy for your vacation planning. Do not forget to subscribe to our newsletter so as not to miss new destinations and interesting facts about islands all over the world!