Private Islands of the Philippines for Rent: A Short Guide for Future Island Tenants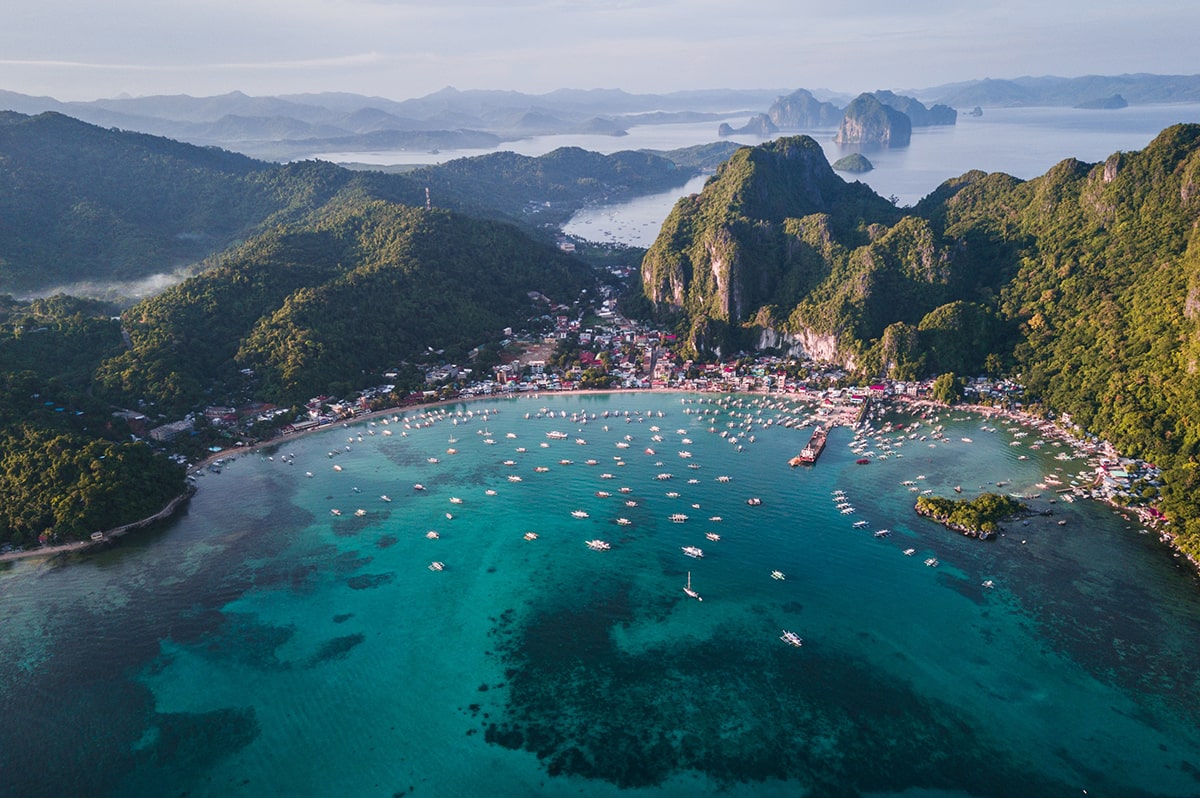 The Philippines are often called a real paradise on earth. This archipelago offers its visitors much more than just attractive sites as the climate, the atmosphere, and the tropical diversity make these islands really pleasant. So the idea to rent private islands of the Philippines is really worth your consideration when you think about the lifestyle of an islander.
How many island in the Phil?
There are more than 7,000 islands that form the Philippines archipelago. Lots of them are private property and so, their owners gladly offer islands for rent. These places are perfect for disconnection and relaxation and most of them have developed infrastructure to meet all the requests of a tourist. Let's enclose what options for rent sunny Philippines offer.
How Much Does It Cost to Rent a Private Island in the Philippines
As there is a diversity of private island rental offers in the Philippines, prices are also quite diverse. What impacts the rates of each private island for rent in the Philippines?
The size of the island and the number of facilities available. There are both places with untouched nature and just a couple of bungalows and luxury resorts with pools, bars, deluxe apartments or villas.
Popularity. Some isles are popular touristic destinations well-promoted and thus, more expensive for rent. While others offer you no less pleasure from their beaches and preserved jungle forests, and sites.
Type of rental offer. Some private island owners offer prices per night while others may offer you long-termed rental. Yet the last option in the Philippines is not popular. Most landlords offer daily payments for their tenants.
On average, prices start from $35,5 (2,000 PHP) per night and there is almost no limitation for the highest rate for a private island in this direction.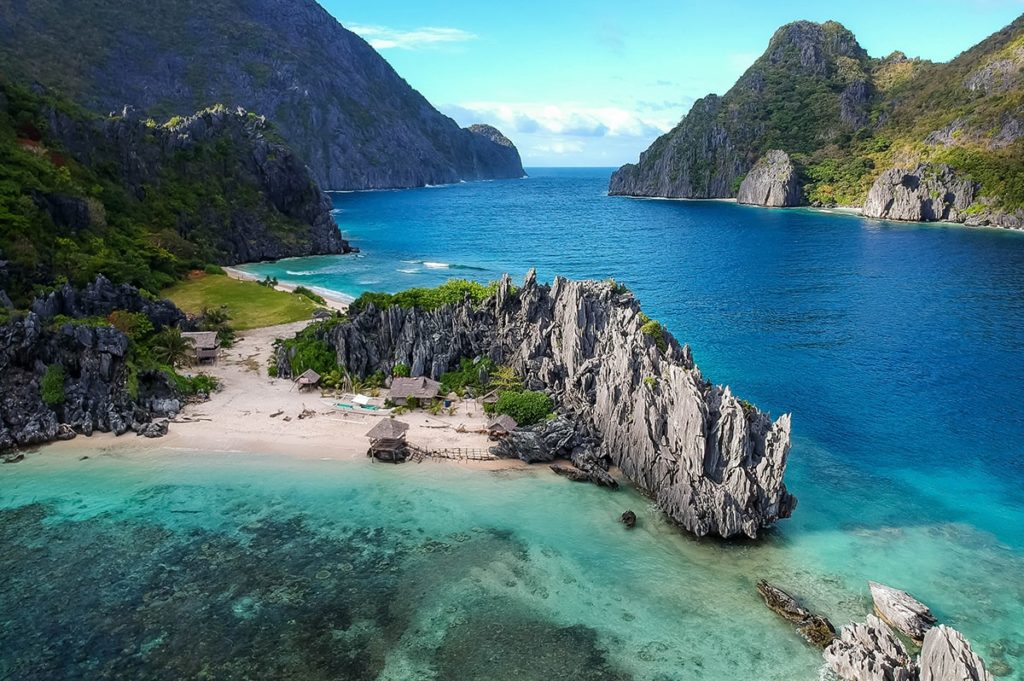 Where to Find Islands of the Philippines for Rent
Today, there are lots of online resources where you can find information about each private island for rent in the Philippines. So, you do not need to cross the ocean to conclude a rental agreement. Yet, we advise you not to deal with intermediates or island rental aggregators and try to contact private island owners directly as this option is more reliable and cheaper (do not forget that aggregators and real estate pros take commissions for their services).
Best islands of Philippines for Rent in the Philippines Available Now
We've collected for you the top 7 destinations in the Philippines to stay on a private island and enjoy the most exquisite leisure ever.
1. Brother Island, Philippines (El Nido)
Direction: El Nido, Palawan Provice
How to Get: Booking a shuttle or boat transfer from El Nido
Price per night: Starts from $97 (depending on the number of guests). Average rate is $357 (20,000 PHP).
Brother Island is not an occasional #1 on our list. That pearl in the crown of the Philippines is famous for its perfect white sandy beach. The isle can host no more than 16 guests at one time which makes it a good choice for family vacations or secluded private parties.
Here you may enjoy the ancestral house with 7 bedrooms and 2 bathrooms. Besides, you can get your Philippines-style dining from a private chef, daily housekeeping, tea bar, library and board games for your happy vacations.
What to do on Brother Island? This island offers truly untouched nature to enjoy. There are both sandy beaches and jungle forests with tracking paths. The island owner also offers kayaks and snorkelling equipment to rent (rental costs included in the price).
2. Pandan Island (Occidental Mindoro)
Direction: Occidental Mindoro
How to Get: by water taxi from Sablayan; by water from San Jose (Occidental Mindoro); from Busanga (Palawan).
Price per night: starts from $35.5 (2,100 PHP).
Pandan Island is not a luxury resort yet its charm is overwhelming. If you search for a secluded private place to spend time in silence, one of its bungalows will suit your goals the most. There are 20+ bungalows that can host from 1 to 8 persons, so it's up to you to get there alone or with your family.
What to do on Pandan Island? The island offers beach vacation options. There is also a bar and a restaurant on the island. For active vacation lovers, a diving centre on Pandan will be a great option to enjoy. Besides, there are lots of spectacular coral reefs surrounding the island to explore while diving or snorkelling.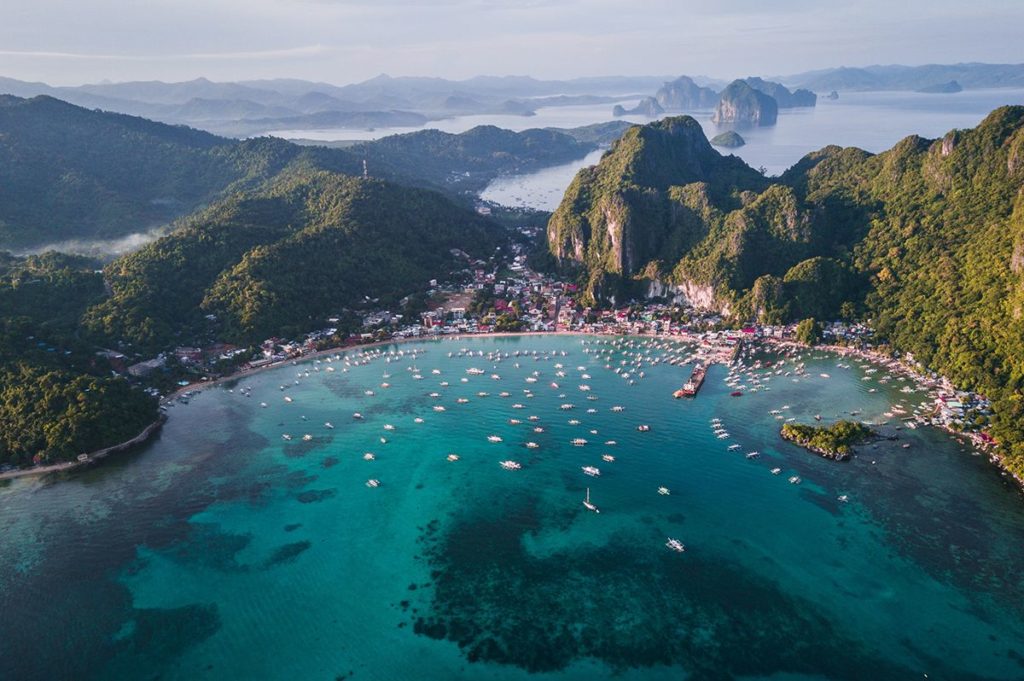 3. Sundang Island (Cavinti)
Direction: Lumot Mahipon Lake, Cavinti
How to Get: driving from Tagaytay, Calamba; by bus from National Capital Region (Santa Cruz-Pagsanjan destination).
Price per night: starts from $87 (4,900 PHP).
Sundang is an exclusive resort that is, namely, an island on the island. Placed in Lumot Mahipon Lake, this small island offers to host up to 15 guests in its 80 square meters bungalow. One of the specific features of that resort is the absence of beach lines. Instead, you can enjoy grassy meadows and romantic sites on the lake.
What to do on Sundang Island? That place is perfect for a romantic trip or a honeymoon vacation to spend with your loved one. Besides, the island is a cradle for numerous birds so you can also spend time birdwatching and meditating there.
4. Island Buenavista (Davao)
Direction: Davao City
How to Get: driving from Davao by car and boat taxies
Price per night: Starts from $205 (11,500 PHP).
That island is a real surfing paradise. Its location is just an hour of the ride from Davao.
City also takes credit from tourists. Its accommodations are great for numerous private parties as the island can host up to 34 guests. That is you can rent a private island for $200 a night to have a perfect vacation with friends. There are various suits and villas to spend your romantic vacations or just enjoy beach leisure. That direction is among the most loved by surfers and beach vacation lovers as all of its 4 hectares are picturesque wildlife sites, white beach sands, and astonishing coral reefs.
What to do on Island Buenavista? Of course, you should experience its beach life and unique sandbar during the time of low tides. Besides, you can go snorkelling, diving, and surfing on the great waves of Davao Gulf.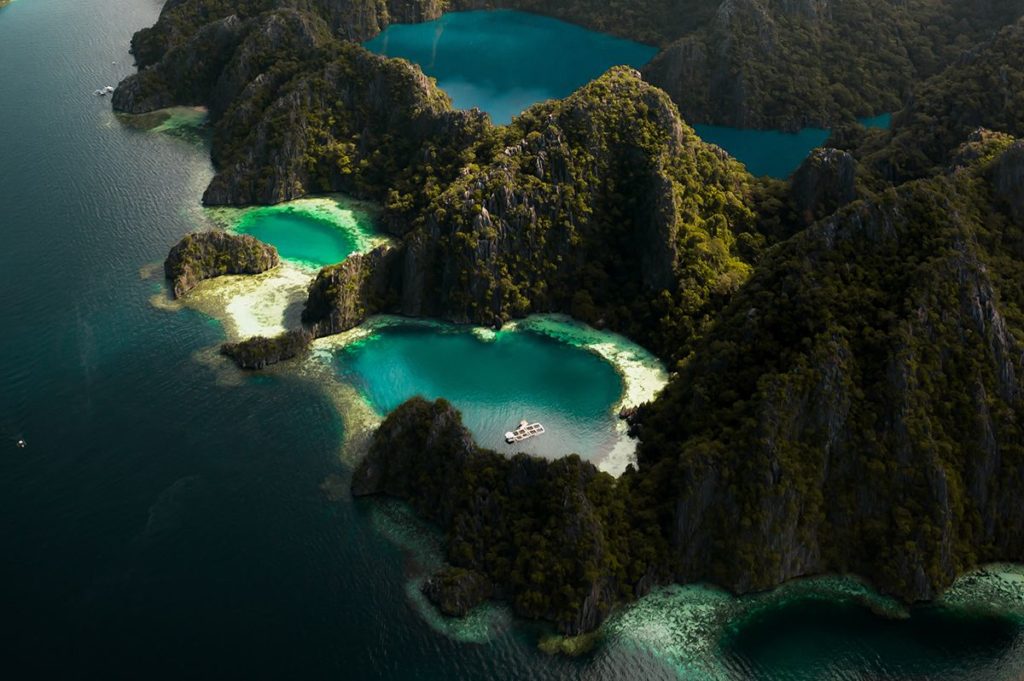 5. NoaNoa Island in El Nido (Palawan)
Direction: Palawan
How to Get: boat pick-up from Taytay with airport transfer included
Price per night: on request
NoaNoa is the perfect private island for rent in the Philippines for friendly companies and honeymoons. There is a peculiarity to enjoy as this is a fully child-free island not suitable for family vacations. Instead, you can enjoy the silence and serenity in its high-class villas. Besides, the island shares the concept of sustainability and green energy and there you get 24/7 electricity from local solar batteries.
NoaNoa Island in El Nido Palawan is perfect for an active lifestyle. It is surrounded by a coral reef sanctuary that offers a unique experience for divers and snorkelling lovers. Its white sands and warm azure waters are a real godsend for those who love calm and meditative vacations. Besides, there is an impeccable service that includes snorkelling and diving equipment rental, kayak&SUP rental, massage salon, restaurant and room service. Do not forget to share your Insta photos from NoaNoa as there is fast Internet access for all the guests.
6. Floral Island (Palawan)
Direction: Talacanen Island, Palawan
How to Get: By aircon van from Puerto Princesa or El Nido to Taytay.
Price per night: starts from $500 (30,000 PHP)
Floral Island resort is one of the cosiest places for weddings and special dates. This secluded island area offers maximum comfort for the most sophisticated tourists. You can enjoy the loneliness in one of the 6 villas located on the island. Besides, there is a wide range of services and facilities you may appreciate including a restaurant, room service, grill master and bonfire beach zone, massage hut, scuba diving services, and giant clams farm. The resort offers a freshwater supply, around-the-clock solar energy, and a fast Internet connection. It can host companies with up to 16 people.
One more peculiarity to enjoy is the concept of wildlife preservation that is adhered to by the island owners and shared with their visitors. You can become a part of the coral planting community by taking part in Floral Island's regular activities.
What to do on Floral Island? Besides regular activities like beach vacations, snorkelling, diving, or tracking, you can enjoy relaxation in a massage hut, visit a Takolbo garden, or help locals plant corals.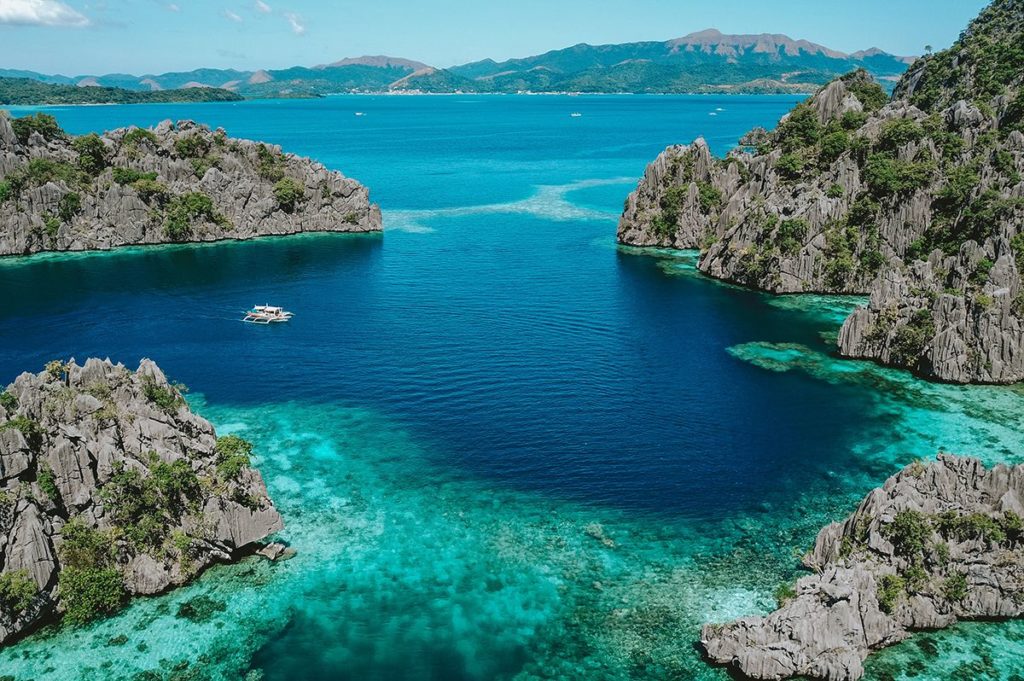 7. North Key Nature Island (Pagtenga Island, Busuanga)
Direction: Busuanga, Palawan
How to Get: land or boat transfers from Busuanga to the island are provided by island resort owners
Price per night: starts from $90 (5,000 PHP)
This small but picturesque island is located in Busuanga. Its white sandy beaches and azure waters are home to turtles and stingrays and pristine corals. It's one of the best places for diving and snorkelling yet the number of activities available for North Key Nature Island guests is not limited just by these. You can enjoy tennis and volleyball, restaurant fine dining, and rock pool leisure.
There is a benefit for companies of 4+ persons, as the owners offer discounts for companies.
Philippine islands map and largest islands of the archipelago
As we mentioned, The Philippines is an archipelago of over 7,000 islands scattered all over the western Pacific Ocean. Roughly 300 of these islands have human populations, ranging from small jungle-covered isles to larger islands with cities and towns.
1-st the largest island in the Philippines is Luzon, which accounts for about a third of the entire country's land area.
2-nd largest island is Mindanao, which is also the second largest island in the entire archipelago.
3-rd is Samar
4th largest island in the Philippines is Negros. It is also one of the islands that comprise the Visayas, which is one of the three major geographic regions in the country. What's special about this island is that it is home to a great number of beaches, natural parks, and caves.
Check out the map of island regions in the Philippines: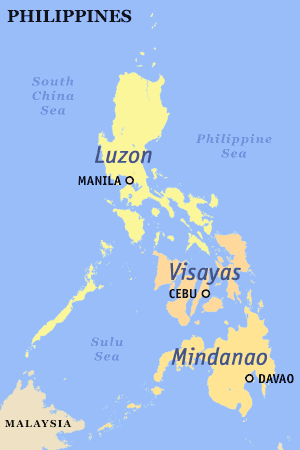 Conclusion
Those who want to rent an island in the Philippines can easily implement their brave ideas into reality. This list is, for us, a selection of the best islands to visit in Philippines.
The Philippines welcome all the appreciators of their tropic-styled, wildlife, and very special atmosphere. Besides, there are several islands that offer loyal pricing so your vacations in the Philippines can cost you an affordable price.
Read also: Philippines Private Islands for Sale: Find Your Tropical Heaven