Kouri Island – Exploring the mysteries of Okinawa, Japan (古宇利島)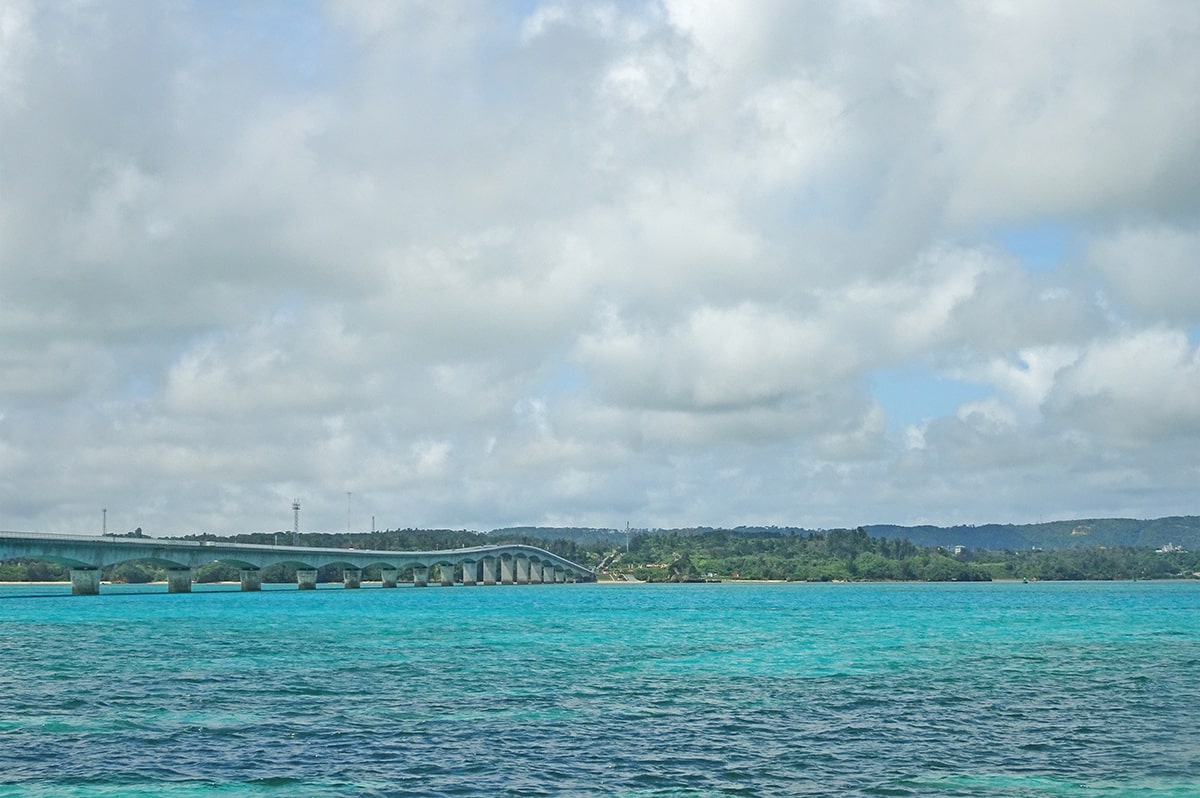 Welcome to the stunning Kouri Island (Kouri Shima), a hidden gem around the island of Okinawa, Japan. This beautiful island is located in the northern part of the Okinawa prefecture, which is known for its crystal-clear blue waters, white sandy beaches, and lush greenery. If you are looking for a unique and exotic vacation spot, then that is the perfect place for you.
Getting to Kouri Island
Kouri Island is easily accessible from Okinawa's main island, with a drive of about 1.5 hours from Naha city. You can rent a car or take a bus to reach the island. Once you arrive at love island, you will be greeted by the spectacular Kouri Bridge, which is the only way to reach the island by car. This beautiful bridge stretches over crystal-clear waters and offers stunning views of the ocean and the surrounding islands.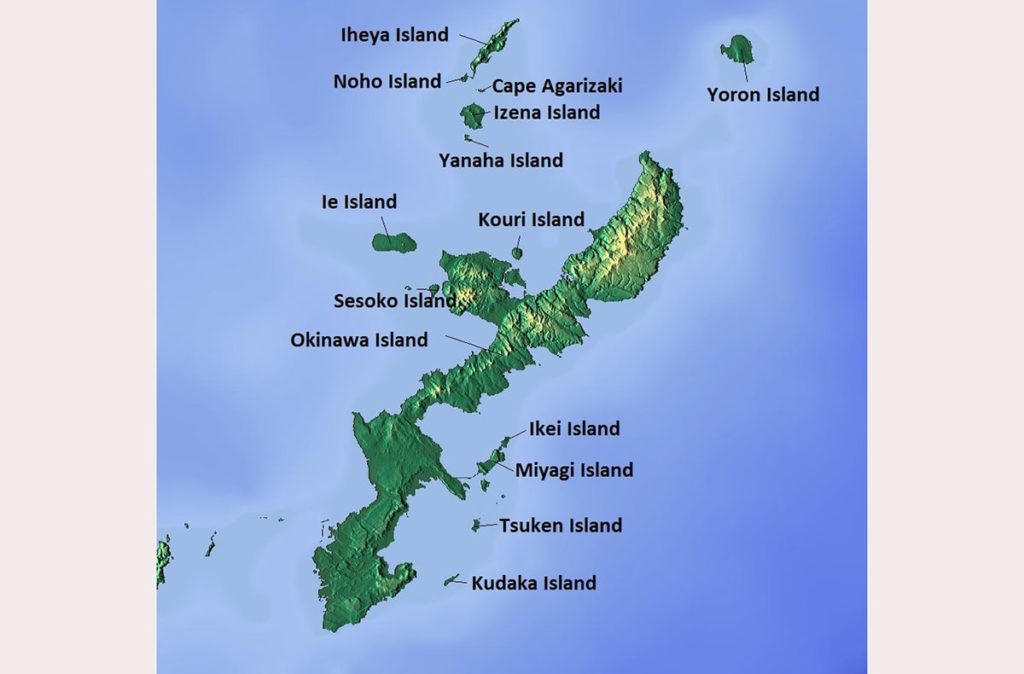 Exploring Kouri Island
Kouri Island is a paradise for nature lovers and adventure seekers. The island is filled with beautiful beaches, hiking trails, and scenic spots. Here are some of the top attractions there:
Kouri Beach
Kouri Beach is one of the most beautiful beaches on the island, with crystal-clear waters and powdery white sand. This beach is perfect for swimming, sunbathing, and enjoying a relaxing day on the island.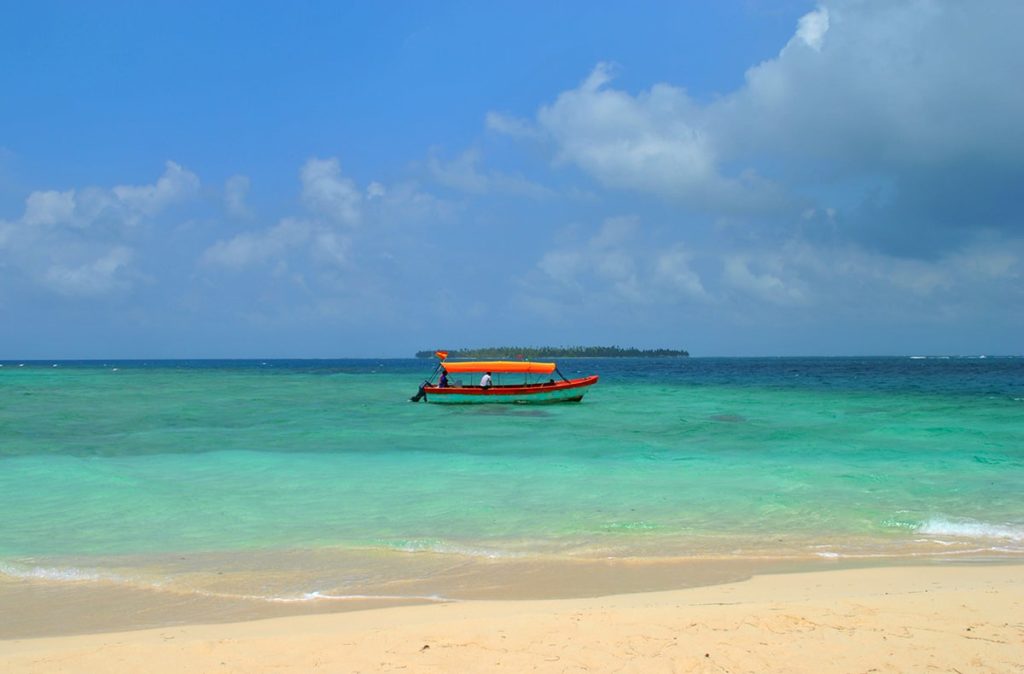 Kouri Ocean Tower
The Kouri Ocean Tower is a must-visit attraction on the island. This tower offers panoramic views of the ocean and the surrounding islands from its observation deck, which is located 82 meters above sea level. You can also enjoy delicious food and drinks at the tower's café and restaurant.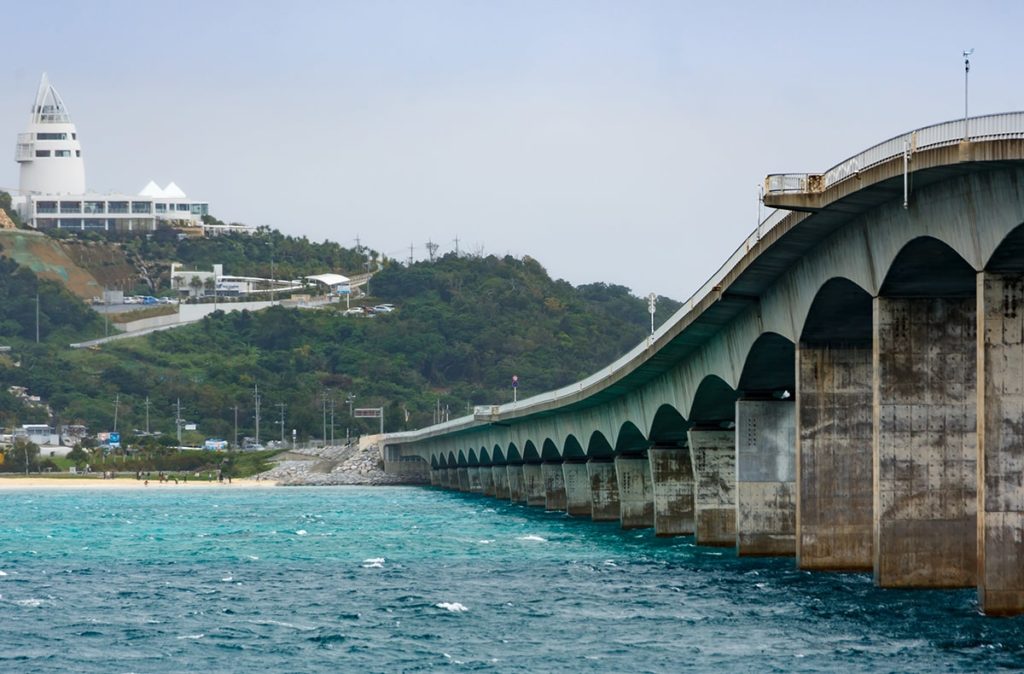 Kouri Shrine
Kouri Shrine is a beautiful Shinto shrine located on the island. The shrine is surrounded by lush greenery and offers a peaceful and serene atmosphere. Visitors can pray for good luck and fortune at the shrine.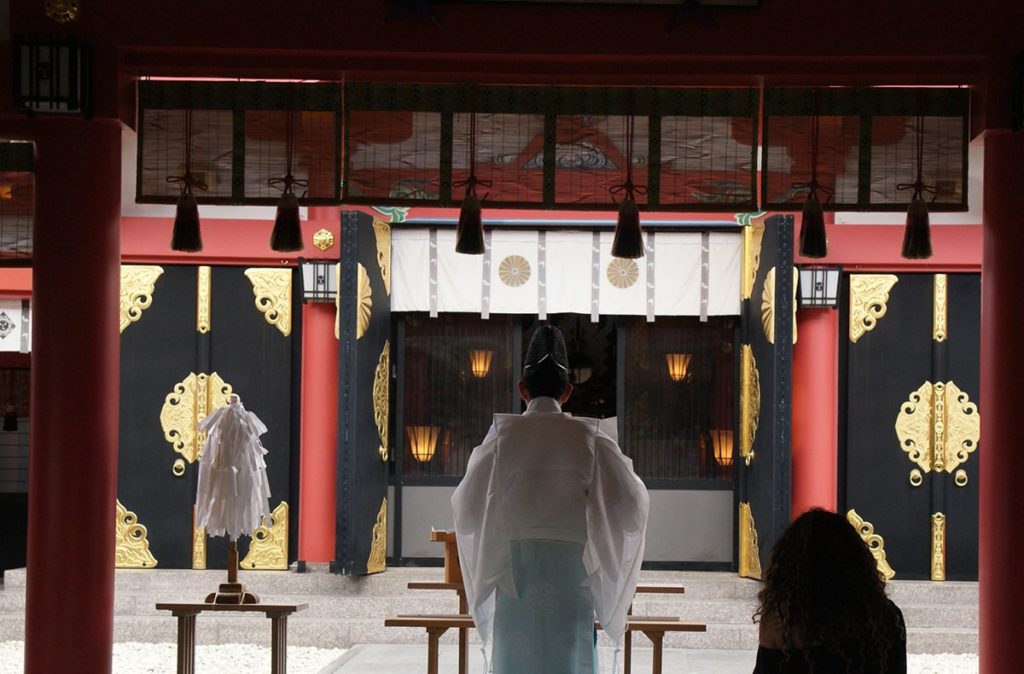 Heart Rocks
The Heart Rock is a natural rock formation located on the beach, which is shaped like a heart. This beautiful spot is perfect for taking pictures and enjoying the stunning views of the ocean.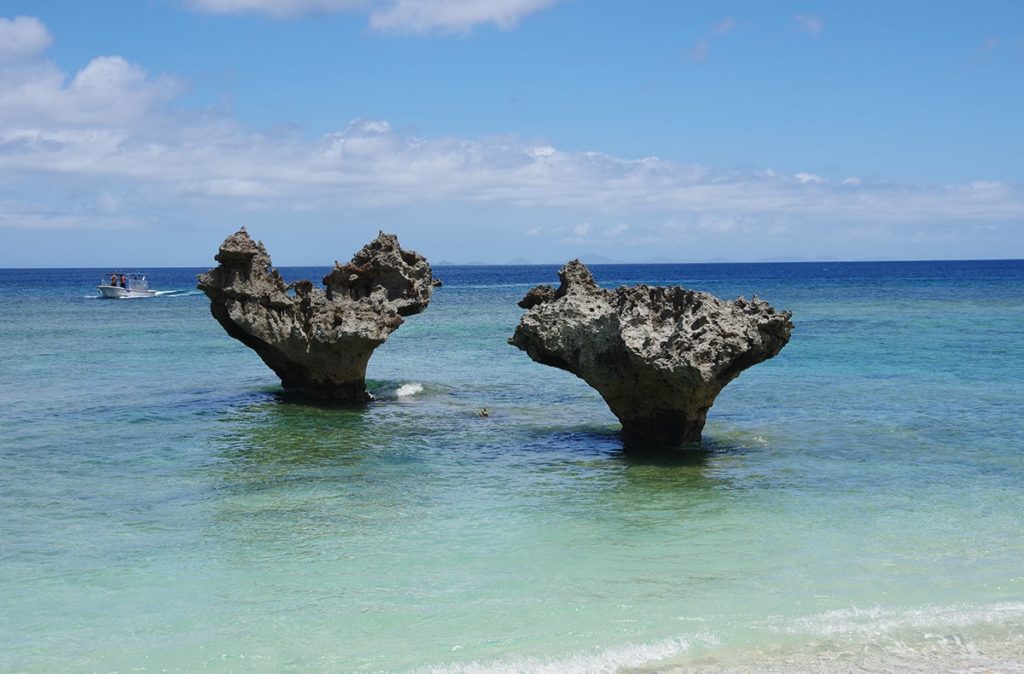 Kouri Island Glass Bottom Boat
The Kouri Island Glass Bottom Boat is a unique way to explore the island's beautiful coral reefs and marine life. This boat has a glass bottom that allows you to see the underwater world without getting wet.
Some facts about the Kouri Island Bridge
The Kouri Island Bridge is the longest toll-free bridge in Japan. It has a span of 1,960 meters and it connects the two islands of Okinawa Prefecture. The bridge is also known as "Kouri-Ie" or "Kouri Island Bridge" because it links two islands — Kouri Island and Tokashiki Island. The former is home to many popular tourist attractions including beaches, waterfalls, caves and more.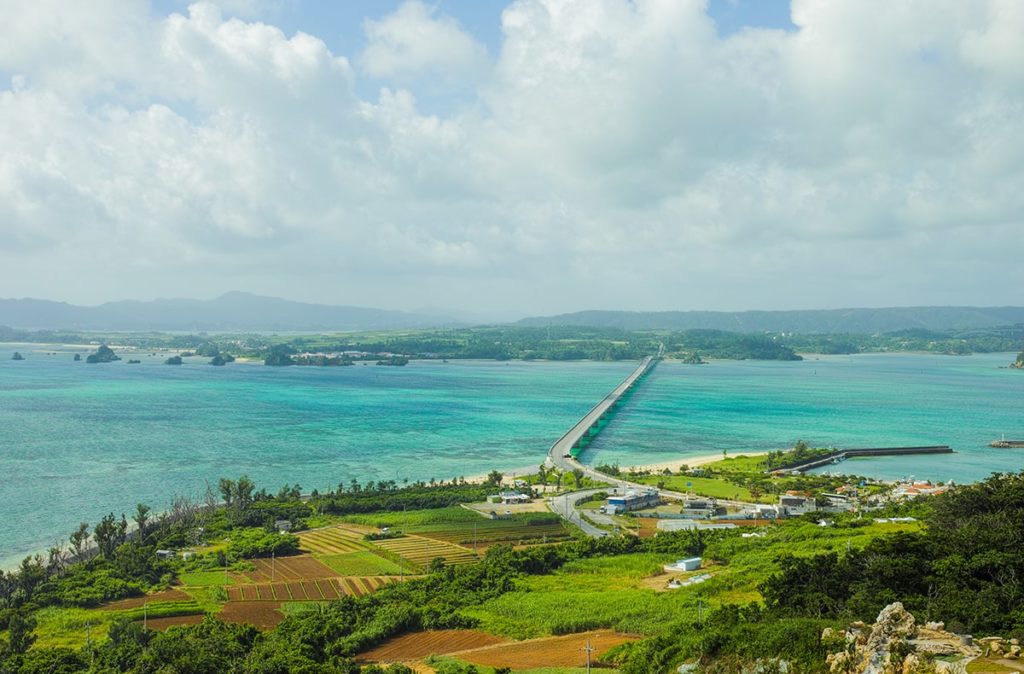 It's actually two bridges that connect the island to the mainland. The first bridge was built in 1971, while the second was added in 1998. Kouri Bridge is made up of two separate bridges, which are connected by a connecting road halfway through its length.
Both bridges are quite long; the first one is 1,960 meters (1.21 miles) long and the second one is 1,990 meters (1.2 miles) long. That makes it the longest toll-free bridge system in Japan!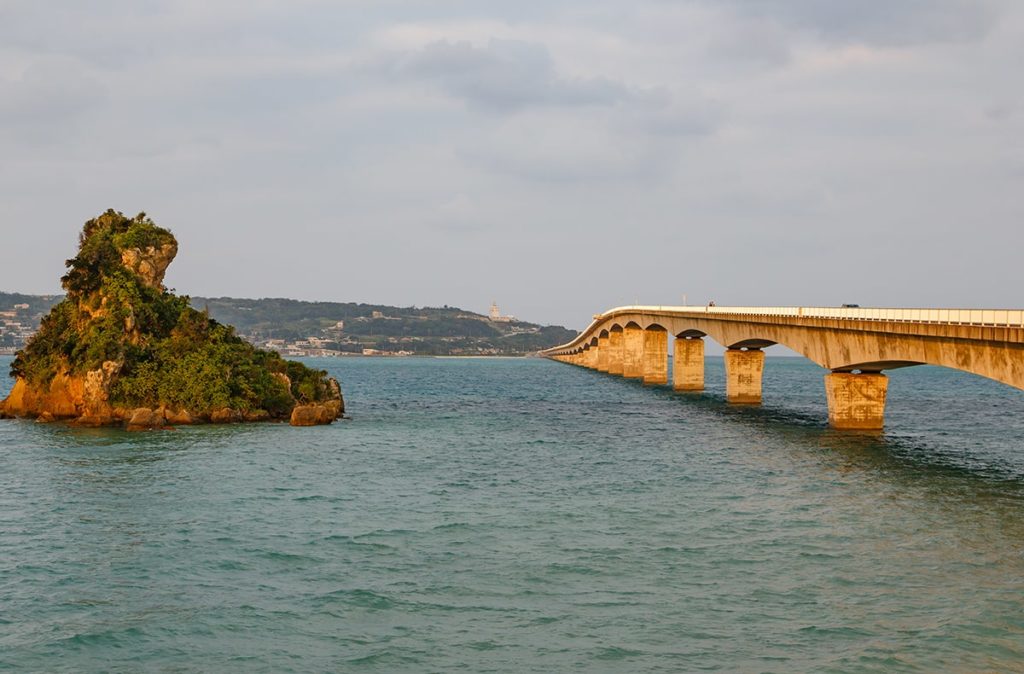 The first bridge was built in 1971 by Tadao Ando and Associates Corporation (TACO), which also constructed numerous other major buildings throughout Japan including the Tokyo Metropolitan Art Museum and the National Museum of Western Art (Tokyo). It was designed to look like the mouth of a fish and was meant to symbolize Okinawa's traditional culture.
Read also: Private Islands for Sale in Japan, the Land of the Rising Sun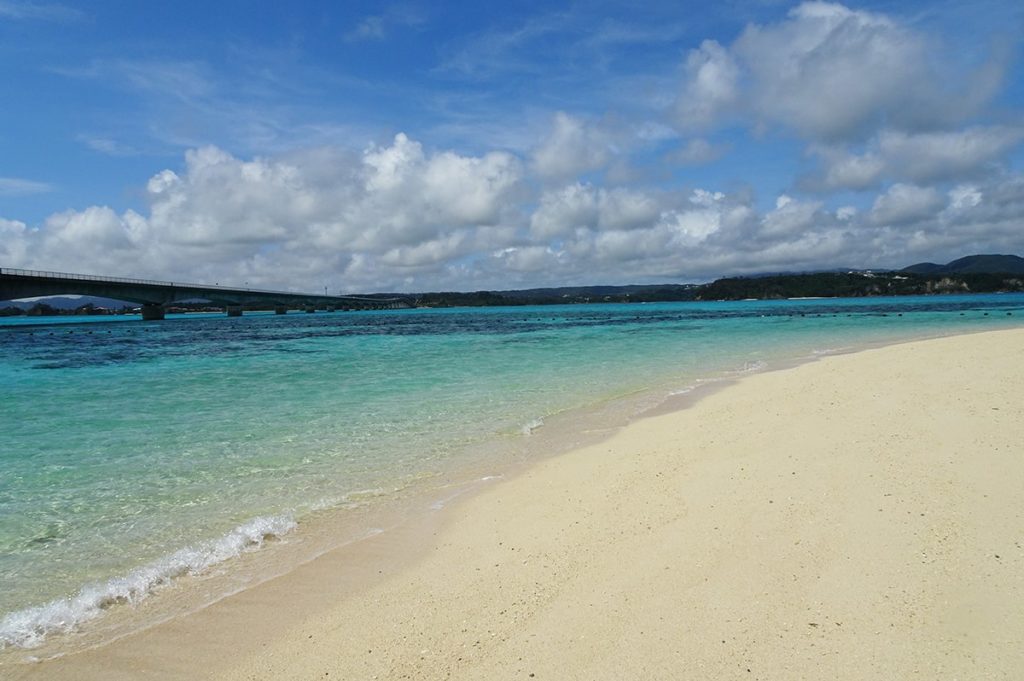 Koury island beach
Kouri Island Beach is located on the north side of the island, just west of the main port area (there's a hotel and also a smaller beach on the south side). It's a beautiful white sand beach with crystal clear water, making it one of our favourite places in Okinawa! There are no lifeguards on duty at this small beach though, so be sure to swim only in calm waters or when there are no waves coming in from the open ocean.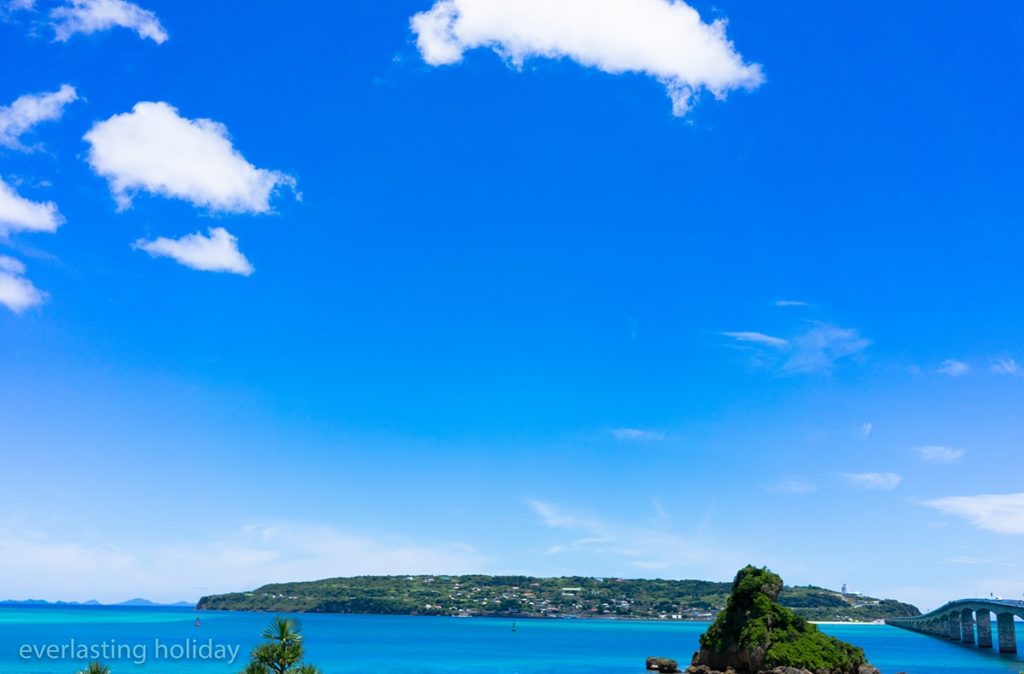 Kouri Beach is equipped with bathing facilities
The natural white sand beach next to the crystal clear waters sits near the Kouri Bridge. This is one beautiful beach which usually exists on remote islands. Across the bridge is Fureai Square which has a restaurant, shower room and toilet.
During the offseason, it can be pleasant to stroll the beaches while admiring the various seaside scenery. It is packed with tourists in any given season.
The best time to visit is a sunny day during low tide when you can walk out into the water for quite some distance! The water is shallow enough for kids to play in too — just be sure to keep them away from any rocks because they can cut your feet if you step on them with bare feet!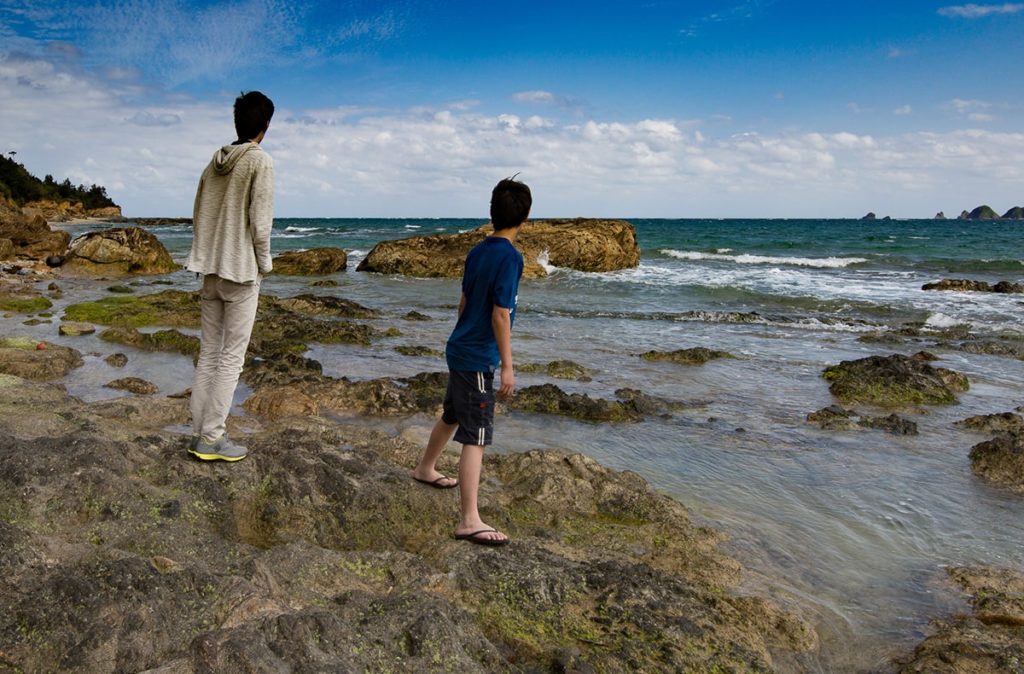 Okinawan cuisine on Kouri Island
Okinawan cuisine is a unique blend of Japanese, Chinese, and Southeast Asian influences, with its own distinct flavours and ingredients.
Okinawa Soba
One of the most popular dishes on the island is Okinawa soba, a hearty noodle soup made with wheat noodles and a broth of pork bones, bonito flakes, and seaweed. The soup is usually topped with slices of tender pork, green onions, and kamaboko (fish cake). Many restaurants on Kouri Island serve their own version of Okinawa soba, and it's a must-try dish for visitors to the island.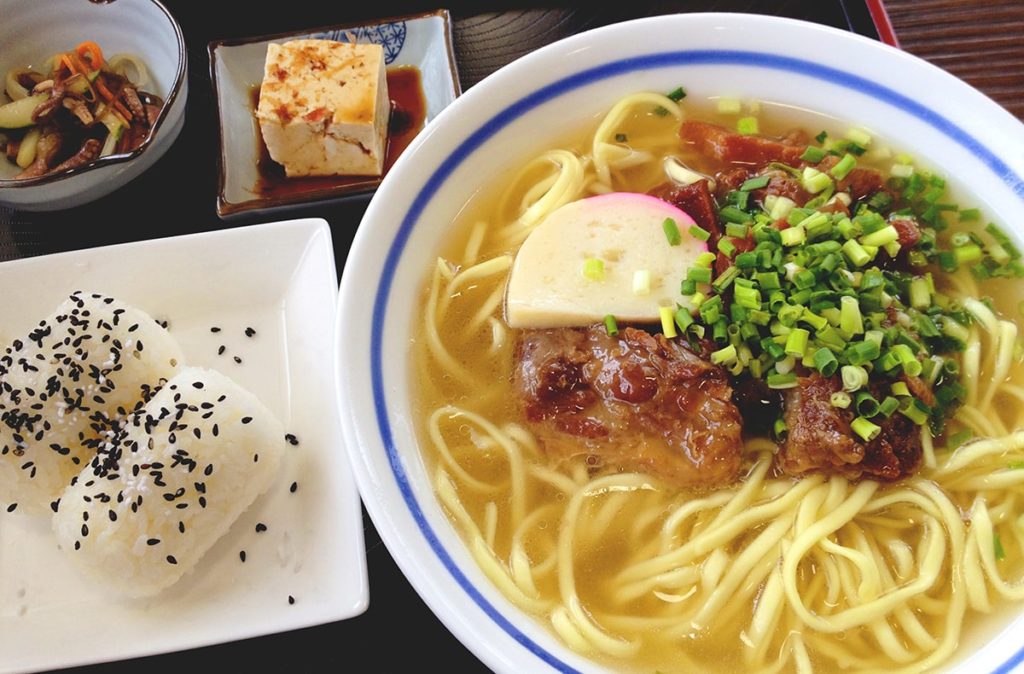 Goya Champuru
Another popular dish on Kouri Island is Goya Champuru, a stir-fried dish made with bitter melon, tofu, egg, and sliced pork. The bitter melon is a unique ingredient that gives the dish its distinctive flavour. It's said to have many health benefits, including aiding digestion and lowering blood sugar levels.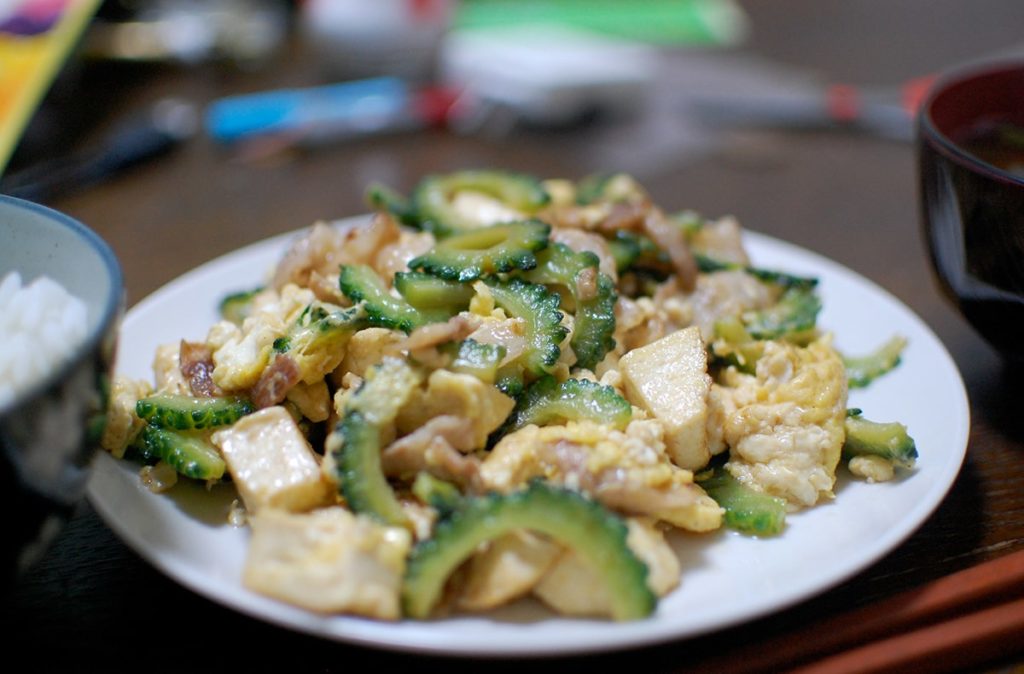 Sata andagi
Sata andagi, or Okinawan donuts, are a sweet treat popular on Kouri Island. They are small fried donuts made with flour, sugar, and eggs, and are usually served hot and fresh from the fryer. They're a popular snack to enjoy while strolling along the island's beautiful beaches.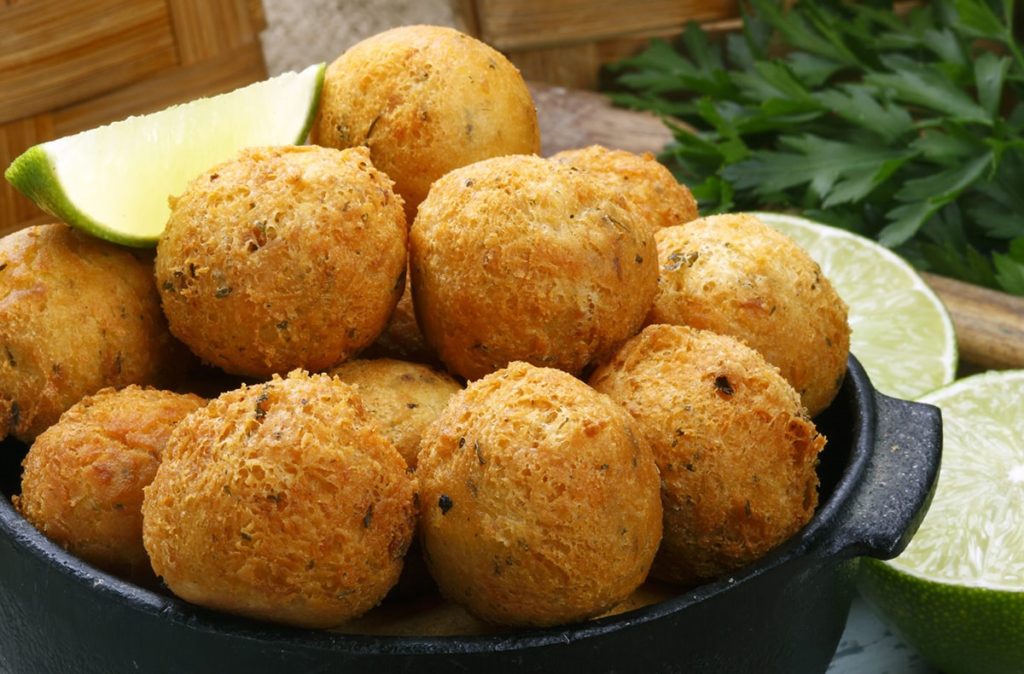 Goya salad
Other traditional Okinawan dishes found on Kouri Island include Goya salad (made with sliced bitter melon, tomatoes, and onions), taco rice (a fusion dish that combines rice, taco meat, cheese, and vegetables), and Umibudo (a type of seaweed that resembles green caviar).
Overall, the island is a great place to experience the unique flavours and ingredients of traditional Okinawan cuisine.
Conclusion
Kouri Island is a beautiful and unique destination that offers something for everyone. Whether you are looking for a relaxing beach vacation or an adventurous outdoor experience, this island has it all. From the stunning Kouri Bridge to the beautiful beaches and scenic spots, this island is truly a hidden gem off-season side of Okinawa, Japan.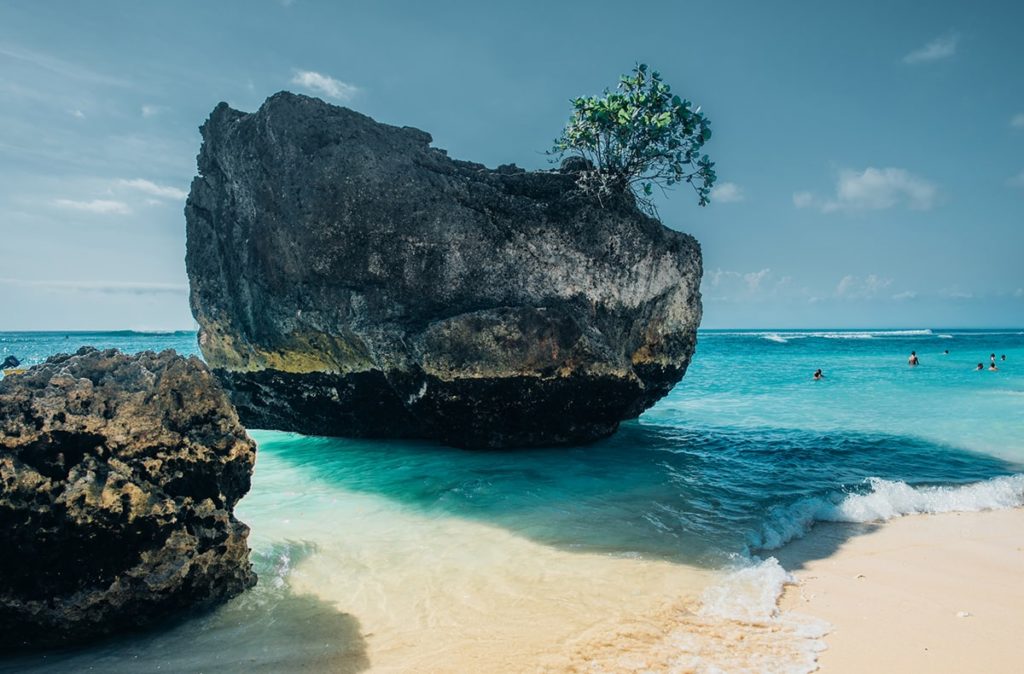 F.A.Q.s
What is the history of Kouri Island?
The island of Kouri is sometimes called Love Islands. Okinawan folklore claims that the island had two lovers who lived in a heart-shaped rocks cave on a shore when mankind began. Two heart-like rocks emerge from the sea on Tinu Beach.
How big is Kouri Island?
The small island, in a circular shape, is 1 km long and its eight-kilometre road surrounds the island. It also houses an estimated 350 population.
How many islands makeup Okinawa?
Okinawa Prefecture consists of 48 inhabited Islands. Only a single island in Okinawa is responsible for 53% of the total land area (2,267 sq km/875 sq mi).
What country does Okinawa belong to?
In the Pacific Wars Okinawa was the only land battle to be fought between civilians. After the war, Okinawa remained under U.S. government control. In 1972 Okinawa was brought back into Japanese hands. Okinawa has not been declared officially independent by Japan until now.
You might find it interesting as well: Maldives Beaches: Top 10 Destinations for Perfect Vacation