Phi Phi Island Thailand: how to get to and 7 best hotels to stay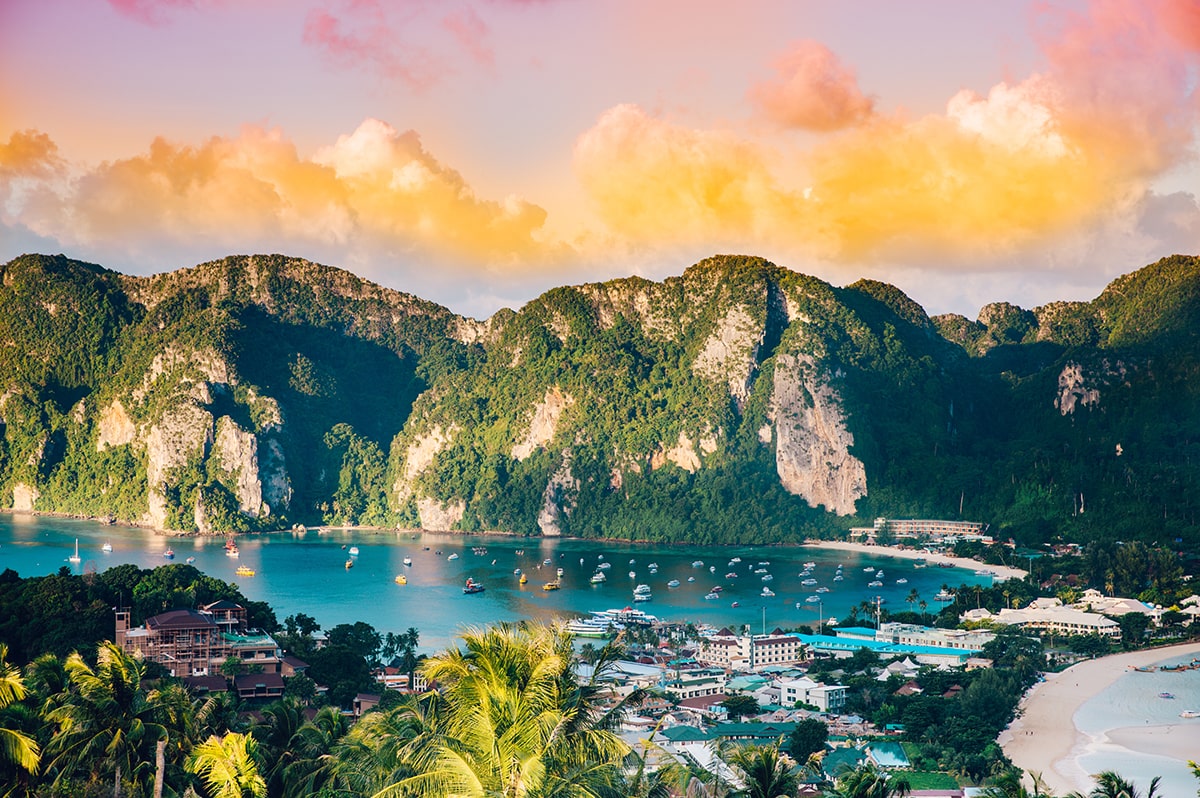 Phi Phi Island (Pee Pee Island) is one of the group islands in the Andaman Sea. Phi Phi Islands are the most popular tourist attraction in Thailand. The group of famous islands are located in Krabi Province, Thailand. The islands are situated about 40 kilometres (25 mi) from Phuket and are administratively part of Ko Lanta municipality.
It is a small archipelago consisting of two main islands: Phi Phi Don and Phi Phi Le. Phi Phi Don is the largest island of the group. It has been the centre of development, while Phi Phi Leh is a smaller island located nearby. Phi Phi Don has an area of 4,407 rai (1,098 hectares). The highest point on the island is Khao Mai Kong at 656 meters above sea level.
Both islands have white sandy beaches surrounded by limestone cliffs and crystal clear waters. It`s perfect for snorkelling, scuba diving or just floating in the sea on a day at the beach.
The main town on Phi Phi Island is Ton Sai Village which has many shops, restaurants and bars. There are also plenty of other accommodation options In the Saii Phi Phi island village including bungalows and hotels. You can find it around Ton Sai village or along the beachfront strip Tonsai village of Long Beach (Loh Dalum).
How do you pronounce Phi Phi islands?
The name of this island is pronounced as "Pee Pee", with a short "i" sound. So, it`s Pee Pee Island. This is the pronunciation used by the locals and in Thailand. The same goes for Phi Phi Leh. Its name is pronounced as "Pee Pee Leh".
The name "Phi Phi" means "coral" in Thai, and refers to the large limestone outcroppings that dominate the islands. The largest island is also named Phi Phi Don (pronounced "pee pee don"), which means "big breast".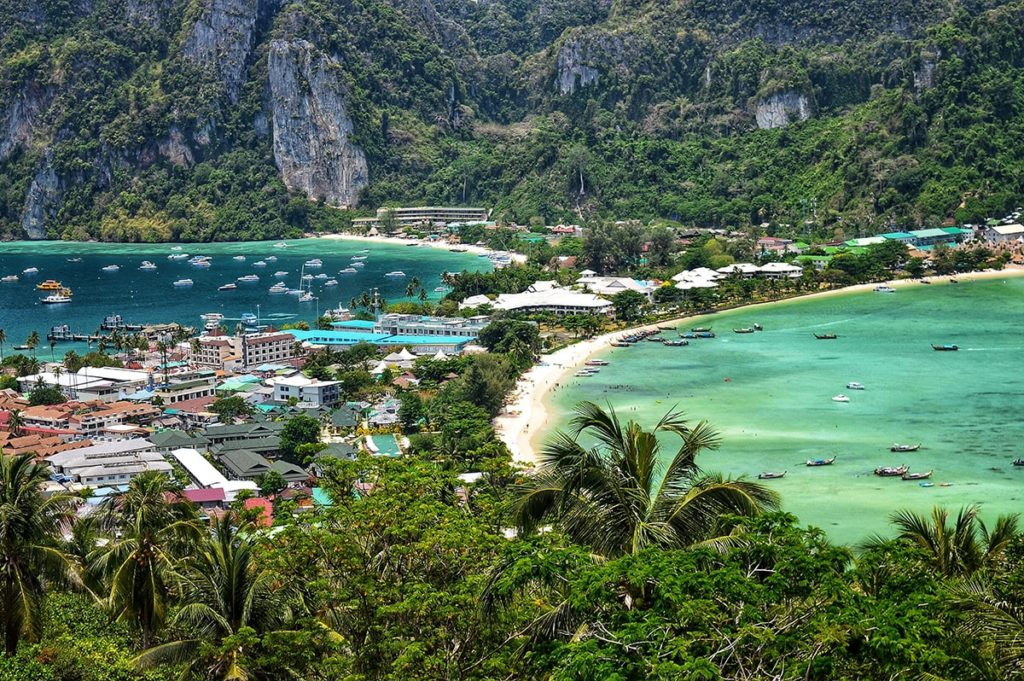 How to get to Phi Phi Island?
Phi Phi Islands are located in southern Thailand and are part of Krabi province. From Bangkok, it takes approximately 3 hours by plane or 5 hours by car to get there. There are also ferry services from Koh Lanta and Krabi town that take about 30 minutes.
If you're coming from Bangkok, you can take AirAsia tickets for around 1,400 THB per person and the flight takes about 2 hours and 45 minutes. Alternatively, you can take a bus from Bangkok. It will cost around 700 THB per person and take about 7-8 hours depending on traffic conditions.
If you're coming from Phuket or Krabi town, you can take a boat which costs around 400 THB per person and takes around 30 minutes. In case you`re coming from Ao Nang or Railay Beach area, there is a direct longtail boat service available (300 THB) which takes around 10-15 minutes depending on sea conditions.
When you're staying in Phuket city and going to go from Phuket to Phi Phiisland it's possible to arrange a snorkelling tour that includes getting.
Read also: Private Islands for Sale in Thailand, the Land of Smiles
Why it`s so popular island
It has everything from beaches to waterfalls, from shopping malls to pubs. You can spend your day relaxing on white sandy beaches by swimming or snorkelling in clear blue waters or go exploring caves and mountains on Kayaking tours with local guides. In addition to diving and snorkelling activities on land, there are also many opportunities to go out on sailboats or other water vehicles.
The most popular activities on the Phi Phi islands include hiking along some of the many trails through the jungle, visiting Maya Bay where 'The Beach' was filmed and checking out some of the local shops selling handmade items or local souvenirs like t-shirts or jewellery made from shells found on the beach.
The Best Things to Do on Koh Phi Phi Island
Phi Phi Islands have become a top destination for tourists from all over the world. It`s the ultimate destination for travellers looking to get away from it all. There is a huge variety of activities on Ko Hp Island in Thailand, and there are 6 different islands. On uninhabited islands, you may have fun water sports photography and exploration and enjoy wild partying and a good meal on the inhabiting inhabited island. Although small, the island is very interesting on the Phi Islands and requires 2-4 nights. After recommending the best places in Phi, we will list some places to stay and places to eat in Koh Phi Don. Read the complete list of attractions in Phuket when you visit!
Take a Boat Tour to Koh Phi Phi Leh and Maya Bay
Although you will most likely spend time at Koh Phi Don it's certainly not advisable to miss Koh Phi Leh's spectacular surroundings. You can see most places by speed boat and see everything you like in one short time frame. Boat tours are regarded as one of Phi Island's best activities and there are easy half-day or day trips. Most tours will take you to the most beautiful parts of Koh Phi Leh. The Koh Phi boat tour includes a tour of the most beautiful spots for snorkelling and cliff jumping.
Hike to the Koh Phi Phi Viewpoint
Koh Phi Don is made from dumbbells and offers a perfect view of the island curve at Koh Phi Viewpoint. The majority of human civilization is found on the centre island but the edges are covered with hills and palm trees and the weight will go. It takes 20-45 minutes for you to climb up the stairs, depending on your strength level. From the top, you have a breathtaking view of Tonsai Bay's dark blue waters and Loh Dall Bay's teal waters with Tonsai villages between them. It's definitely an amazing experience on Phi Island!
Koh Phi Phi Leh
There's Phi Leh's famous Maya Bay. It's closed for a year but has now reopened. It's a couple of kilometres north of there and can be reached in an hour by overnight ferry. The island became an important film setter location in the film "The Beach". The most common activities on Phi Leh include snorkeling and diving.
Visit Bamboo Island or Mosquito Island
A few kilometres from Ko Phai Don lies Bamboo Island, a tropical island paradise with soft white sand and turquoise waters dotted with many bamboo trees. The local community calls the Bamboo Island Koh Phai but there are few infrastructures, so you'll need to take just an overnight trip here. Bring some snacks and drinks here. There is a campsite here for camping overnight to see the sunrise at sunrise. But if you can't wait to go snorkelling, just take the long tail boat to Bamboo Island and spend some time there. Mosquito Island is about three km away from north Koh Phi Island.
Koh Mai Phai (Bamboo Island)
Bamboo Island is a relatively tiny, uninhabited island located 8 north of Phi Island. It is recognized for its untouched white sand beach, sparkling waters and plentiful marine life, making it one of the most visited destinations in the world to snorkel. It has coral reefs and offers stunning views over the pristine Andaman Sea. There are also small bamboo forests that are what give the islands their names.
Loh Dalum Bay
Loh Dalum is a stunning shallow bay on Phi Island south of Phi. It is easily recognizable as a vast area of turquoise water waters visible at the bottom of this famous panoramic photograph. The Loh Dalum is quite large, but has surprisingly little width, and measures 160 meters across. It will be possible for a person to reach Loh Dalum in only a short time. Even though small, Loh Dalum remains the preferred destination of Phi Island visitors. The beach offers many hotel, and restaurant locations, making this one perfect place for travellers looking for a lively atmosphere.
Best Beaches In Phi Phi Thailand
The Phi Islands have many beaches, but clearly, the best for the scenery is Maya Bay. Other beaches that have good white sand beaches, and swimming are Bamboo Island, Monkey Bay and Nilu Beach. The best beaches to stay in Phi Don are Long Beach, LohMoo Dee Beach & Loh Ba Kao Bay. All the hotels are close to beaches with white sand. A drone image showing Bamboo Islands in Cambodia.
Watch the Sunset From the Beach
No tropical trip is complete without seeing the sunsets of colourful islands above the ocean. Grab some blankets or towels and enjoy the food and drink before going to the shore to see the natural colour dancing across the sky and reflecting through the water. There are many beaches to enjoy sunsets on Koh Phi Don such as Long Beach Laem Tong Beach. In the summertime, you can also enjoy a cocktail at a beachside beach bar or take boat trips that feature watching the sunset on the sea.
Can You Fly A Drone At The Phi Phi Islands?
Yeah. Thailand is very comfortable when using drone. It is also available for flights on most island islands and they are not allowed to fly in national parks. The two islands are manned by park rangers, who charge you for flying your drone. It is extremely strict in Maya Bay and the rangers watch everything around it continuously. Alternatively, you can fly from other locations, albeit in some discreet manner. Usually, nobody will notice unless park ranger boats drive by or watch you do this.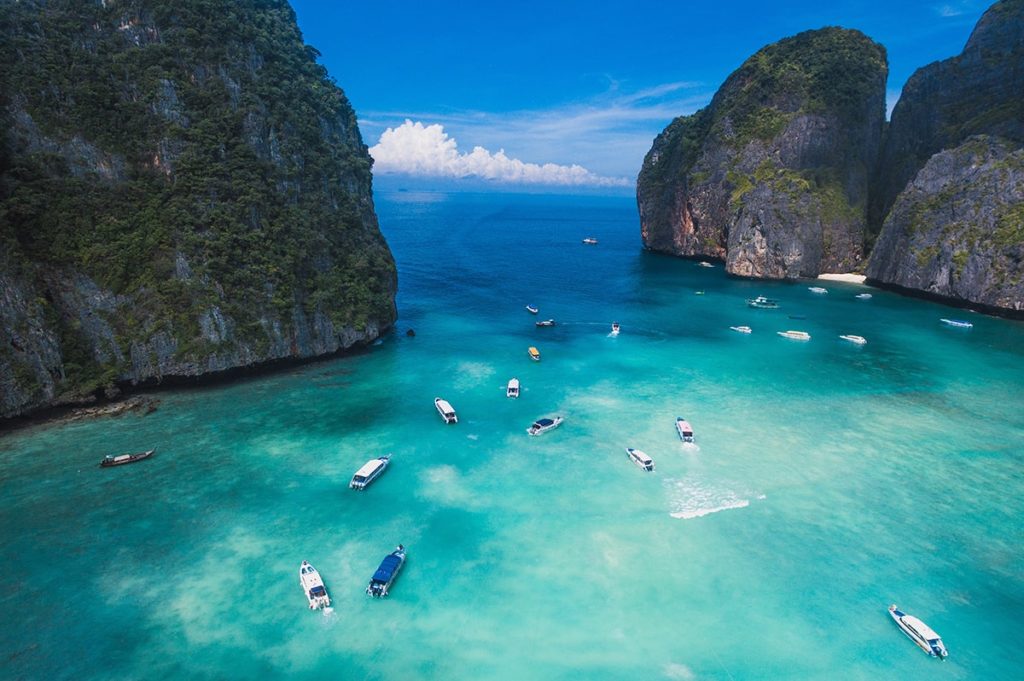 Phi Phi Island: hotels to stay
If you're planning to visit this beautiful island, there are many hotels on Phi Phi Island that you can choose from.
Here are some of the best hotels on Phi Phi Island:
Phi Phi Banyan Tree Resort. The Banyan Tree Resort is located on Loh Dalum Bay. It provides a wonderful place to stay for those who want to relax near the beach. The hotel offers a wide range of facilities including restaurants, bars, a spa and a swimming pool. There are also plenty of activities that guests can enjoy. For example, snorkelling or diving at Maya Bay or exploring underwater caves nearby.
Phi Laguna Resort & Spa. This is another luxury resort located near Maya Bay. Their guests can enjoy their stay while enjoying luxurious amenities such as an infinity pool with Jacuzzi jets, spa treatments, a barbeque pit by the beach and much more! Guests staying here will be able to explore Maya Bay or visit Ton Sai or Laem Tong beaches which are both close by.
Palita Lodge & Resort. This hotel offers great service and a wide range of facilities for all budgets. It has rooms with different views. From this, you can enjoy the amazing scenery of Phi Phi Don Island and its surrounding waters. The resort also offers dining options and activities such as swimming, snorkelling and diving, among others.
The Cliff Beach Resort. This resort has been ranked one of the top 10 resorts in Thailand by TripAdvisor users in 2017. It offers luxurious rooms with spectacular views of the Andaman Sea and Loh Dalum Bay on Phi Phi Ley island. The hotel also has excellent dining options as well as spa services, a fitness centre and other amenities. That will make your stay truly enjoyable!
Paradise Beach Resort & Spa. Paradise Beach Resort & Spa is another popular pick among travellers on TripAdvisor. It gave it an average rating of 4 out of 5 stars based on over 200 reviews from
Cha-La-La Boutique Resort & Spa. This hotel is located near Maya Bay on Koh Phi Phi Don Island. The resort has an outdoor swimming pool and fitness centre. There are also several restaurants within walking distance of the hotel.
Phi Phi Island Village Resort. This resort is located on Loh Dalum Bay on Koh Phi Phi Don Island. It has an outdoor swimming pool and fitness centre. There are several restaurants within walking distance of this resort as well as shops where you can buy souvenirs.
Are Phi Phi islands open for tourists?
After being closed to tourists for almost four years, the Koh Phi Phi islands reopened in 2022. So now is a great time to visit nearby islands! However, notice that the best time to visit the island is during the dry season from November to May.
Visiting Phi Phi Island – Tourist Fees
Tourist fees are 2 USD for the first trip to Phi Island. On Phi Don island the fee is 20baht and payable upon first landing. All people collect it and help take care of the trash daily in the island. These fees are a one-yearly fee only. A hefty cash charge of 450 baht a day is charged at the parks. These fees are charged each time you visit either location.
Best Time To Visit Phi Phi
The best time for a vacation to Phi Island is dependent on your needs. In the Andaman Sea of Thailand (including Phi Phi), the weather from November to April may improve. However, it is also a busy season and the hotels in Phi Don are usually full of tourists. It's a bit cold between April and October. The weather is rainier during the night. The summer months are less busy and you can still enjoy your trip even if you have some flexibility.
Is Koh Phi Phi Safe?
Yes, Phi Island in Thailand is usually the most secure. We stayed a couple of days at Phi Don exploring the town without feeling unsafe at all. You can take normal precautions without fear of criminals. It was really nice to see locals in Phi rather than Phuket and Krabi.
Getting to Koh Phi Phi by Boat
You can reach Koh Phi by boat from several locations and there is plenty of room on this boat for your baggage and it is not necessary to travel long distances.
Best Time To Visit Phi Phi
The best time for a vacation to Phi Island is dependent on your needs. In the Andaman Sea of Thailand (including Phi Phi), the weather from November to April may improve. However, it is also a busy season and the hotels in Phi Don are usually full of tourists. It's a bit cold between April and October. The weather is rainier during the night. The summer months are less busy and you can still enjoy your trip even if you have some flexibility.
F.A.Q.s
What is special about Phi Phi Island?
Phi is blessed with beautiful beaches and turquoise waters bursting with colourful marine life. It has many tourist attractions and attracts more than 100 tourists each day while smaller uninhabited Phi Leh has beautiful bays and beaches including the famous Maya Bay.
Is Phi Phi Island worth visiting?
Yes, Phi Island is definitely worth visiting! The landscape is incredible and all of this is quite inexpensive. I believe this is Thailand's best destination as well as Southeast Asia's best place.
How do you get to the Phi Phi Islands?
The Phi Islands can be reached either by speedboat or by boat from Phuket or Krabi. Ferries take about 2 hours from Phuket and a little over 90 minutes from Krabi and Koh Lan. Public ferries offer an affordable alternative and it's advised to book tickets ahead of time to get the best price possible.
Why is Phi Phi Island so popular?
Phi Island was awarded numerous travel prizes and adores for its natural beauty, beautiful sandy beaches and spectacular scenery over and beneath the water. Trip Advisor awards for the top 20 destinations across the globe by travellers and ranked number 1 amongst the must-see islands.
You might find it interesting as well: Best Island Vacations for Families: Top 10 Destinations to Choose